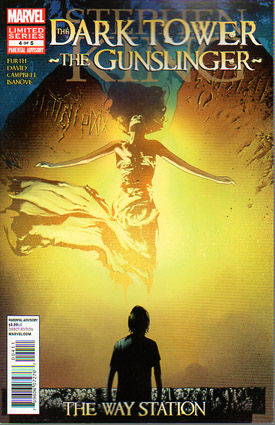 Every writer has one book that is concidered their Masterpiece, for Stephen King fans, its hard to chose, but in the end they will all pick the same; The Dark Tower series. The Dark Tower was first written in the 70′s with many books to follow in the 80′, 90′s, 00′s, and as of recently the latest edition; The wind through the keyhole, has been released and takes place between books 4 and 5.
Marvel comics has worked with King for a few years now bringing his epic series to the colorful pages of comics. It has become a huge hit amoung fans and new fans growing everyday. For me, as a diehard Tower fan, it is great to finally see these stories and characters come to life for the first time ever and soon to be made into a film in the near future. But for now we have plenty of comics to come because this is a very long series.
The Dark Tower is about Roland of Gilead, the last Gunslinger in a apocalptic time where "the world has moved on". Roland is told he must follow and catch the Man in Black and find the Dark Tower to save the world and all worlds. The Tower represents the time space continuum and there are Beams that come from all over that lead to this Tower. Along the way, Roland makes Ka-Tet (friends or family), but also enemies, for they don't want Roland to reach his precious Tower thanks to the Man in Black. Over the last few years, MARVEL has brought "parts" of the Dark Tower series to the comic book world. And right now the current 5 issue series on newsstands is; The way station, which takes place in the first novel; Gunslinger.
In this 5 issue set, Roland has crossed the desert and has met the fan favorite character, Jake Chambers, a little boy that becomes almost like Rolands son, but as Roland and Jake almost catch up to the Man in Black, they run into a stone structure in the mountains that puts Roland to the test and he must decide to save Jake or save his precious Tower. As a fan of the series, I can tell you this is a very important moment in the story and it changes Roland in many ways and is very important.
This series is brought to us by Robin Furth, a long time friend and assistant of King's, King himself is Director Consultator on the comic, and the Art is by Laurence Campbell which is truly some of the best art I've ever seen in a comic book. It's very cutting edge and dark. This is a "must buy" for all King fan's and if you've never heard of The Dark Tower series, I highly recommend you start if you enjoy good vs. evil, fantasy, and magical type of stories based in an apocalyptic world.