RANK: 7.5/10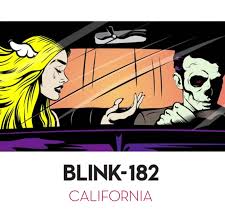 E' il 2015 quando lo storico chitarrista/cantante Tom DeLonge si separa dai Blink 182, lasciando il posto a Matt Skiba e ponendo così le basi del settimo studio album della band californiana, un disco che ha non solo l'onere di presentare il citato musicista, ma anche intraprendere una strada dopo l'anomalo precedente Neighborhoods.
Le sonorità elettroniche con venature post-punk del sesto album della band, sono in buona parte abbandonate per lasciare spazio ad un pop-punk più scanzonato che richiama le hit del combo, mescolato ad atmosfere più malinconiche che sono la vera e propria croce e delizia di questo album. California, infatti, si muove tra il punk melodico e dai testi umoristici tipici del passato ("Bored to death", "She's Out Of Her Mind", "Rabbit Hole"), sfiora l'hardcore ("The Only Thing That Matters") e approda su territori melodici, presentando ballate dagli intarsi semplici quanto azzeccati. Ecco spuntare le intense "California" e "Home Is Such A Lonely Place", le più ritmate ma sempre malinconiche "Los Angeles" e "San Diego", brani dalla indole pop che faranno storcere il naso ai sostenitori della band ma che saranno in grado di raccogliere nuovi sostenitori.
California è un disco furbo, transitorio, melodico, umoristico ma anche malinconico, un connubio non semplice da digerire (per il genere), capace tuttavia di suggerire sensazioni diverse, emozioni contrastanti. Provate a salire in auto, lanciandovi ai limiti consentiti in un tratto costiero con "Sober", passate a "Bored to death", poi rallentate, possibilmente al tramonto nel momento in cui il sole accarezza la linea dell'orizzonte e ascoltate "California" e "Los Angeles"; troverete in questo disco la giusta colonna sonora dei vostri viaggi.
RANK: 7.5/10
Tag:album blink 182, blink 182 2016, BLINK 182 California, BLINK 182 California recensione, Californiarecensione, Matt Skiba, pop punk, punk melodico, settimo album blink 182, Tom DeLonge, Tom DeLonge abbandona
Posted in Pop and Top album by Giulio De Gaetano on ottobre 17th, 2016 at %H:%M.