RANK: 8/10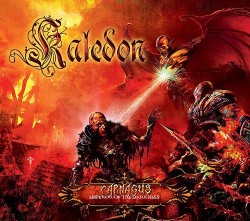 Attivi da  oltre 15 anni, i romani Kaledon sigillano un nuovo lavoro di epic-power metal che non disdegna influenze trashy e delinea il tipo di assalto sonoro sin dalla guerriera copertina. Carnagus: Emperor Of The Darkness è il primo lavoro licenziato dalla Sleaszy Rider, ottimamente registrato presso i Domination Studios, dopo ben cinque dischi registrati con la Scarlet Records.
Dopo l'immancabile intro ("Tenebrae Venture Sunt"), le danze sono aperte con la roboante "The Beginning of the Night" vera e propria summa di quello che sono i Kaledon oggi: epici ma selvaggi, melodici ma al contempo graffianti. Sospinti anche dalla voce del new entry Michele Guaitoli (Overtures), i brani si susseguono senza particolari cadute di ispirazioni, seguendo un songwritting ponderato e perfettamente in grado di competere con qualsiasi altra realtà del panorama internazionale. Lontani da influenze power tricolore, i Kaledon sanno come coinvolgere l'ascoltatore, grazie anche ad una precisa sezione ritmica formata da Paolo Lezziroli (basso) e Manuele Di Ascenzo (batteria), in un insieme di brani che sublimano nella conclusiva "The End of the Undead", probabilmente il pezzo più rappresentativo del disco.
Ascoltate Carnagus: Emperor Of The Darkness anche se non fedeli al genere, potreste scoprire un (altro) tassello del metal tricolore capace di fare scuola.
Tracklist
1.Tenebrae Venture Sunt
2.The Beginning of the Night
3.Eyes Without Life
4.The Evil Witch
5.Dark Reality
6.The Two Bailouts
7.Trapped on the Throne
8.Telepathic Messages
9.Evil Beheaded
10.The End of the Undead
RANK: 8/10
Tag:carnagus recensione, epic power metal, kaledon - carnagus