RANK: 6/10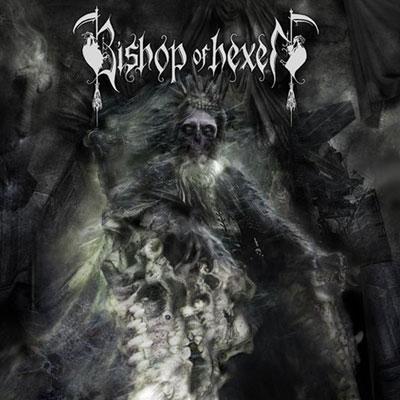 Attivi sin dal 1994, natii israeliani, i Bishop of Hexen riescono a sfornare il secondo full length, grazie al promo "Unveil the Curtain of Sanity" che ha permesso loro di accasarsi presso la CCP records per ben tre album. L'intro "Unveil the curtain of sanity", nenia emblematicamente oscura, apre le danze al black sinfonico di "Eyes Gaze to a Future Foreseen" che subito mostra un uso intelligente della batteria, mai troppo scontata o ripetitiva, che ben si amalgama ai continui cambi di atmosfera.
E' proprio questo il punto di forza della band ma anche il suo limite: tastiere che avvolgono completamente il sound, non relegandosi mai a ruolo di tappeto, chitarre capaci di macinare riff (semplici ma efficaci), screaming "acido" e pomposo, il tutto oscillante tra atmosfere tetre e malinconiche.  Sembra ascoltare composizioni estremizzate di Danny Elfman con "A serpentine Crave", dove le strazianti urla di Lord Koder (ex Grimoire) si modulano per adagiarsi ai cambi operistici. Dopo il break atmosferico di "Sleeping by Nightmares", la seguente "Self Loathing Orchestration" inizia con un incedere simile a quello degli ultimi Dimmu Borgir, senza mai premere il piede troppo sull'acceleratore, elemento che a lungo andare pregiudica leggermente la prova degli israeliani, costantemente lugubri e sfarzosi, ma mai violenti nel senso più puro del termine.
Sulla stessa scia si stagliano le restanti tracks, menzione a parte per "Stride the Corridors of One's Mind", distinta da buoni riff di chitarra e da interessanti soluzioni vocali pulite.
Come già detto, croce e delizia dell'album in questione sono le tastiere; infatti se da un lato costruiscono un climax altrimenti irraggiungibile, dall'altro pesano troppo sul sound globale, almeno in un contesto black, dove la ferocia sonora dovrebbe sancire i dettami delle composizioni. Buona prova comunque per questi Bishop of Hexen che, se coadiuvati da un più deciso songwritting e da una scelta dei volumi più adeguata, potrebbero dire la loro in un contesto ormai da anni stantio come quello del black melodico.
Tracklist
01. Unveil the Curtain of Sanity
02. Eyes Gaze to a Future Foreseen
03. A Serpentine Crave
04. Sleeping by Nightmares
05. Self Loathing Orchestration
06. Spiritual Soul Sunset
07. The Somber Grounds of Truth
08. Stride the Corridors of One's Mind
09. Velvet Demise
10. Dreaming…Dementia
RANK: 6/10
Posted in Heavy Metal and Musica by Giulio De Gaetano on febbraio 16th, 2012 at %H:%M.