RANK: 7/10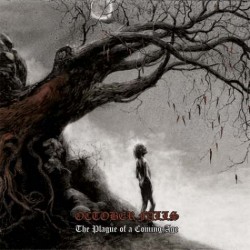 "At The Edge Of An Empty Horizon" sin dal titolo e dalle prime note ci introduce perfettamente nel mondo autunnale degli October falls, trio finlandese (una volta one man band) dedito ad un doom metal che alle volte si lancia in sfuriate black metal ma che preferisce mantenere un'atmosfera cupa ed eterea di fondo.
Reduci dall'ottimo A collapse of faith, i nostri sfornano un disco che sembra una sintesi degli Opeth (primo periodo) e dei Moonsorrow, ricercando melodie e suoni capaci di evocare il gelo dei territori scandinavi, tra arpeggi di chitarra classica introduttivi ("The Verge Of Oblivion", "Snakes Of The Old World"), riff di matrice black metal ("The Weight Of The Fallen") e virate quasi totalmente acustiche ("Boiling Heart Of The North").
The plague of A coming age riesce a infondere quella sensazione di smarrimento tra lande desolate, quella paura di sentirsi solo nel buio della notte in cerca di un riparo, un piccolo fuoco acceso per non lasciare scappare via la propria anima. E questo fuoco gli October falls lo accendono, rinunciando ad alcune atmosfere più drammatiche del precedente album e prediligendo sonorità sì dark, ma mitigate da melodie più aperte e delicate.
Tracklist
1. At The Edge Of An Empty Horizon
2. Bloodlines
3. The Verge Of Oblivion
4. Snakes Of The Old World
5. The Plague Of A Coming Age
6. Mouth Of A Nation's Harlots
7. Boiling Heart Of The North
8. The Weight Of The Fallen
9. Below The Soils
RANK: 7/10