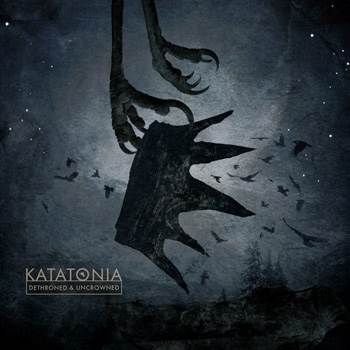 I Katatonia, reduci da un album non originale ma ricco di spunti sonori come Dead End Kings, disco riuscito e capace di incrociare atmosfere elettriche a melodie cupe, con una sezione ritmica a supporto di un groove latente, decidono di edificare sulle medesime fondamenta un nuovo castello sonoro. Dethroned and uncrowned ne è, infatti, la versione acustica.
Dove l'appeal strumentale era sostenuto da ritmiche moderate nell'enfasi tecnica ma decisamente presenti, adesso il cuore diviene la melodia. Sintetizzatori, suoni provenienti dal buio della notte, arpeggi acustici ed echi di assoli di chitarra elettrica sostituiscono le atmosfere di Dead End Kings. E lo fanno egregiamente. Inutile negarlo, c'è chi urlerà contro l'operazione, d'altronde rappresenta uno sforzo compositivo nullo, dedito solo alla cura degli arrangiamenti. Ma come non abbassare le luci e perdersi dietro gli splendidi vocalizzi di Jonas Renkse in "The racing heart" o il mood più caldo di "Ambitions" e "The Parting", vere e proprie perle di malinconia?
Naturalmente l'ascolto completo di Dethroned and uncrowned richiede lo stato d'animo adatto, specialmente se non si è avvezzi agli ascolti di album dal carattere fortemente acustico/atmosferico come questo. Per chi ama i Katatonia l'ascolto è imprescindibile, un balzo ancor più in fondo nelle melodie malinconiche pieno di pathos.
Tracklist
The Parting
The One You Are Looking For Is Not Here
Hypnone
The Racing Heart
Buildings
Leech
Ambitions
Undo You
Lethean
First Prayer
Dead Letters
Posted in Acoustic by Giulio De Gaetano on settembre 9th, 2013 at %H:%M.