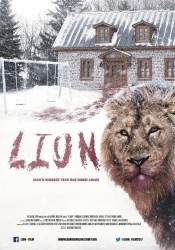 Posticipato nel 2017 Deep Shock, il regista romano impiantato in Spagna, Davide Melini (La Terza Madre, Penny Dreadful), si sta dedicando ad un horror atipico e, al contempo, dallo stampo classico: Lion. "La paura piú grande dell'uomo é pronta a tornare!"
Nel seguito la trama:
Uno chalet isolato in una foresta innevata… Un uomo accecato dall'alcohol… Una donna incapace di ribellarsi… E un bambino di 8 anni, con un viso cupo e due occhi oscuri… Il silenzio della notte sará squarciato da grida mortali… L'incubo ha inizio.
Diretto con la Red Epic Dragon a 6K, il film di cui potete vedere il teaser trailer qui, presenta un cast di tutto rispetto, Pedro Sánchez, Michael Segal (Colour from the Dark, Anger of the Dead), Tania Mercader, e una produzione di tutto rispetto: Luca Vannella ("Thor", "Harry Potter", "Apocalypto", "Heart of the Sea- Le origini di Moby Dick"), Alexis Continente ("Thor", "Penny Dreadful"), Vincenzo Mastrantonio ("Titanic", "Moulin Rouge", "La passione di Cristo", "Romeo + Giulietta"), Bobby Holland ("Il cavaliere oscuro – Il ritorno", "Game of Thrones: Il trono di spade", "Assassin's Creed", "007 – Quantum of Solace"), Ferdinando Merolla ("Troy", "Gangs of New York", "Hannibal Lecter – Le origini del male"), Roberto Paglialunga.
Troupe
Produttrice Esecutiva: Fabel Aguilera
Direttore di Produzione: Pablo Lavado
Direttore della Fotografia: Juanma Postigo
Casting: Carlos Bahos
Scenografia: Carlos Borja Luise, Carlos Javier López
Costumi: Patricia Gabas
Effetti Speciali: Sarah McCarthy
Montaggio: Daniel Salinas
Suono: Christian Valente
Musica: Francesco Tresca
Effetti Visivi: Alessio Barzocchini, Raúl Trujillo, Francesco Longo
Tag:Alexis Continente, Bobby Holland, Fabel Aguilera, Ferdinando Merolla, horror italiano, LION, LION davide melini, Luca Vannella, Michael Segal, Pedro Sánchez, Roberto Paglialunga, Tania Mercader, Vincenzo Mastrantonio
Posted in News by Giulio De Gaetano on giugno 5th, 2016 at %H:%M.