RANK: 8/10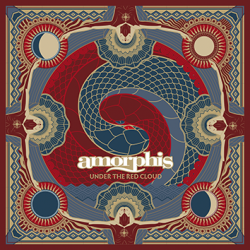 Gli Amorphis raggiungono quota dodici dischi, dodici passi che da una sorta di death impuro degli esordi li ha portati verso un heavy ricco di influenze folk e prog, senza mai dimenticare una base monolitica data da riff portanti massicci e mai anonimi. Under the red cloud sembra dare maggiore importanza al passato rispetto al precedente Circe, realizzato appena due anni prima (2013).
La voce di Tomi Joutsen, con il suo alternarsi di clean vocals e growl (mai ferali), ben rappresenta il sound di questo disco: tanta melodia, una giusta dose di aggressività, condite con atmosfere arabeggianti. Il tutto inserito in un contesto di forma-canzone ricercata, raffinata e costruita con cognizione di causa, guardando con particolare attenzione il pentagramma e dando molta importanza ad arrangiamenti originali, che non possono che arricchire il sound del disco in primis, del repertorio biografico della band in secundis.
Inserite Under the red cloud nel lettore e perdetevi tra le melodie di "Sacrifice", l'epicità di "The four wise ones", gli assalti metallici di "Bad blood", il folk di "Tree of ages", la delicatezza di "White night" o le melodie di tastiera della magniloquente "Dark path", ascoltate il valore aggiunto dato dagli importanti ospiti (Chrigel Glanzmann, Eluveitie o Martin Lopez, ex Opeth) e perdetevi in un disco che, con un solo ascolto si imprime subito in mente, con ripetuti ascolti si lascia cogliere in tutte le ricche sfumature.
RANK: 8/10
Tag:AMORPHIS, amorphis disco 2015, Under the red cloud, Under the red cloud recensione