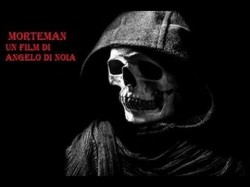 Uno strano supereroe venuto da una galassia sconosciuta agli uomini accorre ogni volta che serve aiuto. Angelo di Noia, mostra le sue capacità di attore, regista, montatore, e curatore. Difficile aggiungere altro, perché altro non c'è. Manca di un filo logico, non c'è un storia, non c'è stile e, fondamentalmente, non c'è una motivazione in grado di dare significato a queste immagini che scorrono ognuna senza alcun legame che le colleghi  l'una all'altra.
Impossibile giudicarlo, impossibile racchiuderlo in un genere o affibbiargli un'etichetta in grado di identificarlo. Non sto lì nemmeno a chiedermi quanto sia trash, perchè non c'è nulla che me lo possa giustificare. Ma, probabilmente, al regista questo non importa. Angelo di Noia ha, infatti, creato un corto volutamente senza senso, esasperando l'assurdo e il paradosso.
Dice di essersi ispirato a film come The Incredibly Strange Creatures Who Stopped Living and Became Mixed-Up Zombies, Rat Pfink a Boo Boo e Manos The Hands of Fate e, quindi, di aver tentato di realizzare un lavoro quanto più trash possibile. Non credo, tuttavia, che cercare di ricreare una scena partendo dai suddetti film implichi uno esercizio maturo, tale da entusiasmare chi lo guarda. Anzi, nonostante una voce narrante snervante, alcune scene assurde e un paio di tentativi di effetti speciali, Morteman annoia.
Apprezzabile la battuta finale che, per lo meno, caratterizza il protagonista: un supereroe stronzo al servizio della gente, ma solo se e quando gli pare. Inclassificabile.
Regista/Director: Angelo di Noia
Cast: Angelo di Noia
Italia 2015
Tag:Angelo Di noia, horror italiano
Posted in Fantascienza by Melania Colagiorgio on gennaio 14th, 2016 at %H:%M.