RANK: 8.5/10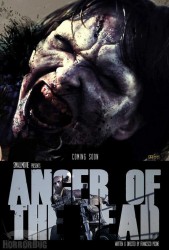 Scritto e diretto da Francesco Picone, l'adrenalinico Anger of the dead ha partecipato a numerosi e importanti festival internazionali collezionando meritatamente una serie di premi: miglior corto al Tohorror Film Fest 2013 e al Twisted Tails Film Festival (Texas) 2014, migliore regia all'Interiora Horror Fest 2013 e miglior cortometraggio horror al Nero Cafè Award Tolfa Short Film Festival 2014.
Il mondo che siamo abituati a conoscere non esiste più: gran parte della popolazione si è trasformata in famelici morti che camminano, e l'unico modo per recuperare generi di prima necessità è sfidare la sorte e vagare tra polvere, rovine e rottami, alla ricerca di cose che, un tempo non troppo lontano, appartenevano ad altri. I sopravvissuti, però, non hanno fatto i conti col pericolo più grande … gli zombie mossi da un primitivo e insaziabile istinto di fame. Nell'essere umano, invece, violenza e aggressività sono spinte solo dalla bramosia e dal capriccio. I due protagonisti lo imparano a proprie spese, tentando di salvare la pelle da una minaccia incombente.
Lodato e pluripremiato, Anger of the dead ha dimostrato ciò che vale: regia, interpretazione degli attori (Alex Lucchesi è magistralmente perfetto nel ruolo del cattivo che più cattivo non si può), musiche, fotografia, trucco ed effetti speciali sono curati e realizzati alla perfezione. L'elevata qualità del film ha attirato persino l'attenzione del produttore Uwe Boll, che ha messo in cantiere la realizzazione di un lungometraggio, sempre diretto da Picone.
RANK: 8.5/10
Regista/Director: Francesco Picone
Italia 2013
Posted in Horror by Annalisa Sichi on maggio 20th, 2015 at %H:%M.