RANK: 7/10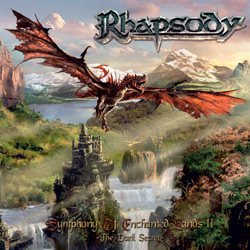 La calda voce di Christopher Lee introduce Symphony of the enchanted lands 2 in "The Dark Secret", annunciando una terribile profezia che riecheggia nelle lande incantate, divenendo ancor più minacciosa con i cori e i riff taglienti della vera e propria opener "Unholy Warcry", brano velocissimo e pomposo che ben presenta questo disco dei nostrani Rhapsody.
Certo, per chi ha vissuto l'uscita del meraviglioso Symphony of the enchanted lands  nel 1998, vedere un numero 2 non può che far paura ma scacciamo via ogni dubbio: questo secondo capitolo, seppur inferiore all'irraggiungibile capostipite, è un disco coinvolgente, ottimamente arrangiato, suonato e presentato. Il sound dei triestini è sempre lo stesso, nonostante alcune influenze di fondo, per cui se siete amanti della band continuerete a supportarla, se siete detrattori ad odiarla.
Torniamo al disco. Se "Never Forgotten Heroes" è una buona song, anche se priva di quella marcia in più che avrebbe necessitato in una posizione così delicata del disco, e "Elgards Green Valleys" è ne più ne meno un piacevole filler, si raggiunge il capolavoro assoluto con "The Magic Of The Wizard's Dream", brano lento ed operistico dai versi drammatici che che esplodono in un chorus dalle melodie vocali semplicemente sublimi, cantate da un Fabio Lione ai massimi livelli, e dagli arrangiamenti estremamente curati da Alex Staropoli. Capolavoro. "Erlan's Mystical Rhymes" non può reggere il peso della precedente song, specialmente con i suoi dieci minuti di durata, e solo con "The Last Angel's Call" il quintetto si riassesta su un buon livello, ma occorre attendere le ultime due song per raggiungere alti livelli, nonostante alcuni pregevoli spunti power di "Sacred Power of Raging Winds" e la folk ballad "Guardiani Del Destino".
Purtroppo non essendo amante delle saghe fantasy, non riesco a godere pienamente del connubio testi/musica, anche se si intuisce il legame tra entrambi. Symphony of the enchanted lands 2 è un disco in definitiva riuscito, che presenta alcune cadute di tono che ne minano le fondamenta, alcuni passaggi eccessivamente simili a quelli già presentati dalla band ma un insieme epico dal vasto respiro.
Tracklist
The Dark Secret
Unholy Warcry
Never Forgotten Heroes
Elgard's Green Valleys
The Magic Of The Wizard's Dream
Erlan's Mystical Rhymes
The Last Angels' Call
Dragonland's Rivers
Sacred Power Of Raging Winds
Guardiani Del Destino
Shadows of Death
Nightfall On The Grey Mountains
RANK: 7/10
Posted in Heavy Metal by Giulio De Gaetano on marzo 13th, 2015 at %H:%M.