RANK: 9/10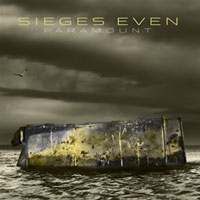 Notevole il percorso evolutivo dei tedeschi partiti dalla seconda metà degli anni '80 con un prog/thrash tecnico e raffinato e giunto nel 2007 con un rock tecnico ricco di melodie. Sono passati due anni dallo splendido "The art of navigating by the stars" con i Sieges Even capaci di affinare ulteriormente il loro stile, assottigliando la struttura delle canzoni grazie ad una potatura radicale delle esecuzioni solistiche. Proprio qui risiede la principale differenza coi precedenti lavori, lasciando vertere le composizioni sulle melodie vocali molto spesso simili (come gusto compositivo si intende) a quelle dettate dai Rush o dagli Yes.
Ecco nascere così veri e propri capolavori elettro/acustici caratterizzati da sognanti ed eteree atmosfere, alle volte malinconiche ("Where our shadows sleep") altre ariose ("Tidal", "Bridge to the divine") e ballate armonizzate da cori solenni ("Eyes wide Open").  Elogiabile la cura certosina con cui i tedeschi riescono a creare partiture complesse su brani dove la melodia regna sovrana non solo nei chorus ma anche nei versi, lasciando esterrefatto l'ascoltatore con tempi dispari e articolati mentre sembra si stia ascoltando una canzone pop. E questo, sembrerà strano, non è criticabile proprio perché la ricerca di ogni singola sovrapposizione tra melodia e tecnica riesce sempre, non cadendo mai ne nella banalità ne tanto meno nella mera esecuzione tecnica.
A donare ulteriore splendore a questo gioiello è la miscela di sonorità che spaziano dal prog rock degli anni '70 dilatandosi sino all'hard rock pomposo e gravitando intorno al metal ed al pop. Così le piccole gemme intarsiate dai Sieges Even emettono una luce propria, stampandosi perfettamente in mente all'ascoltatore sin dalle prime note. In questo senso anche "Iconic", che sembra uscita dalla penna di Sting (avete letto bene), assume un significato nell'ottica di Paramount. Magnifica anche la title-track, addolcita dalle noti di un sax, apice di un lavoro da ascoltare e vivere assolutamente. Se avete apprezzato "The art of navigating by the stars" fate vostro questo disco, se non li conoscete ancora procuratevi l'intera discografia.
Tracklist
01) When Alpha And Omega Collide
02) Tidal
03) Eyes Wide Open
04) Iconic
05) Where Our Shadows Sleep
06) Duende
07) Bridge To The Divine
08) Leftovers
09) Mounting Castles In The Blood Red Sky
10) Paramount
RANK: 9/10