RANK: 8/10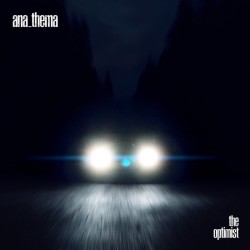 Quando le sonorità acustiche si sposano con il buio della notte, in echi elettronici plasmati da un feeling dark di fondo, nasce un sound unico, etereo ed avvolgente. Nascono le sonorità di The Optimist. In un insieme di influenze che derivano dal lontano A fine day to exit, così come da Distant Satellites, e che proseguono la storia innescata nel primo disco citato, datato 2001.
La progressione ritmica di "Can't let her go" cade nelle dolci note di pianoforte di "Close your eyes", le atmosfere soffuse di "Wildfires" raggiungono l'apice del climax nei quasi dodici minuti di "Back to the start", summa dei sentimenti che permeano l'intero album. Partiamo dalla fine e torniamo dall'inizio, in un cerchio che racchiude la tristezza e la calda luce del crepuscolo, malinconici rintocchi di pianoforte come sezione ritmica rock, sprazzi sinfonici come artifici elettronici.
Chi ama gli Anathema più acustici dovrà attendere prima di gustarsi pienamente The Optimist, chi non si ferma di fronte alla sperimentazione sonora si infrangerà nelle splendide melodie di "Endles Ways" lasciandosi trascinare lontano dalla spiaggia, in un viaggio con i fari accesi nel buio della notte.
Tracklist
1 32.63N 117.14W
2 Leaving It Behind
3 Endless Ways
4 The Optimist
5 San Francisco
6 Springfield
7 Ghosts
8 Can't Let Go
9 Close Your Eyes
10 Wildfires
11 Back To The Start
RANK: 8/10
Tag:ANATHEMA, ANATHEMA The Optimist, ANATHEMA The Optimist recensione, rock acustico, The Optimist