RANK: 6/10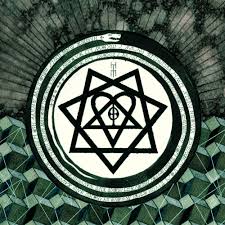 Gli HIM sono praticamente scomparsi dalle scene, dopo il deludente remix SWRMXS, vero e proprio disco alimentare, e il non proprio esaltante Venus Doom. Eccoli nuovamente con il loro "love metal sound", nuovamente (quasi) scevro di influenze hard rock che non proprio avevano funzionato nel già citato album, con tredici tracce semplici, lineari ma in parte emozionanti.
Tears on tape, diciamolo subito, non lascia gridare al miracolo (se non pensando al fatto che gli HIM sembravano un gruppo finito) ma è in grado di proporre buone tracce, supportate come sempre dagli accordi elettrici pieni, con acustica in parallelo, di Lily Lazer, dalla batteria precisa di Gas Lipstick, dalle tastiere ariose di Emerson Burton, dal basso sempre un po' in sordina di Mige Amour e, specialmente, dall'inconfondibile voce di Ville Valo.
Si parte con l'inutile intro strumentale "Unleash the red" e con l'opener vera e propria "All lips go blue" in modo decisamente sottotono, per poi migliorare con una classica (per gli standard del gruppo) "Love Without Tears" e una semi-inutile, ritornello catchy ma versi mediocri, "I Will Be The End Of You". Si migliora decisamente con la title-track e con "Into the night", veramente costellata da melodie riuscite, per poi cadere in un baratro che copre ben cinque canzoni (da "Hearts at war" all'insulso strumentale/rumoristico "Lucife's chorale"), respirando nuovamente con la ritmata e ricca di chitarre stoppate "W.l.s.t.d." Chiude la rumoristica(mente inutile) "Kiss the void".
Per chi ha sempre amato il sound degli HIM troverà con Tears on tape un buon disco ma è ben chiaro come sia ancora un classico 6 in pagella, in attesa di un guizzo creativo o di una definitiva chiusura del ciclo creativo. Speriamo nella prima.
RANK: 6/10
Posted in Pop and Rock by Giulio De Gaetano on maggio 13th, 2013 at %H:%M.