RANK: 8.5/10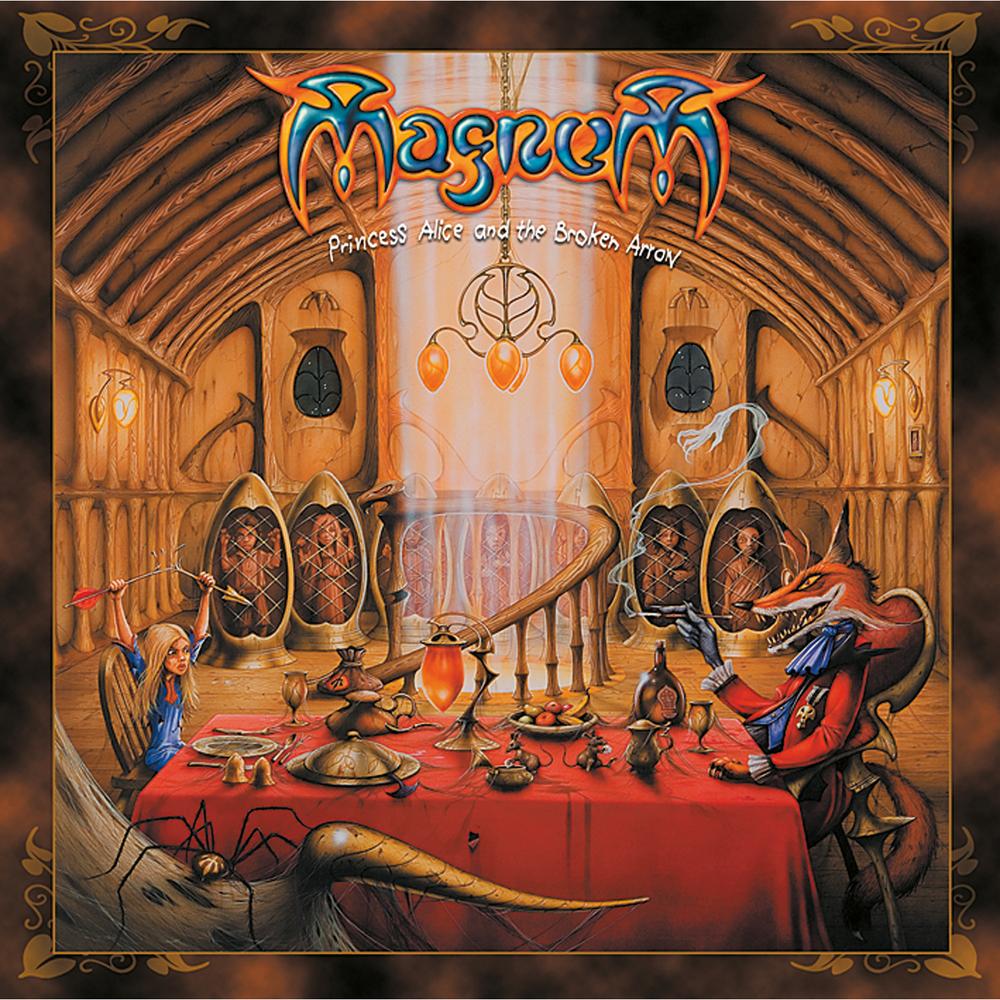 Chi ama i Magnum e magari non ha particolarmente apprezzato il penultimo insipido Brand new morning può benissimo interrompere la lettura di questa recensione e correre ad acquistare una copia di questo notevole Princess alice and the broken arrow.
Basta gettare un'occhiata all'artwork curato da Rodney Matthews per capire che i Magnum hanno deciso di compiere un balzo indietro nel tempo ripescando la pomposità e le tematiche fantasy del capolavoro On a storyteller's night. Splendida l'opener "When we were younger" dove melodia a fiumi, fasti sonori e regale interpretazione del veterano Bob Catley suggellano un eccellente brano dal sapore antico e dolce ma anche genuinamente rock. La malinconia ed i ritmi di "Eyes wide open", l'american rock venato di epicità di "Like brothers we stand", l'hard rock anni '80 di "Out of the shadows" non possono che donare emozioni a chi ascolta, più volte infatti ho ripercorso le meravigliose sensazioni provocate da The Tower (magniloquente disco solista di Bob Catley) o il già citato On a storyteller's night.
Quando si è sicuri che la tensione deve calare ecco spuntare "Dragons are real" brano decisamente accattivante dove Catley si lancia in un ritornello da brividi, mentre il flavour degli anni '70 torna in auge con la ballad pianistica "Inside your head". Una leggera stanchezza si affaccia verso i brani che portano al finale ("Be Strong", "Thank You For The Day" e "Your lies"), ma l'impennata che sorprende prima con "Desperate times", delicatamente accompagnata dalle tastiere e da un eccellente refrain, e poi specialmente con la conclusiva "You'll never sleep", frizzante, epica, maestosa, malinconica, catchy e perfettamente interpretata da tutta la band, non possono che lasciare pienamente soddisfatti da questa release.
Grandiosi i Magnum una band che ha lasciato un segno indelebile nella storia della musica e che a quasi trent'anni dalla prima release ha ancora qualcosa da dire, e lo fa in maniera impeccabile. Complimenti.
Tracklist
01. When We Were Younger
02. Eyes Wide Open
03. Like Brothers We Stand
04. Out Of The Shadow
05. Dragons Are Real
06. Inside Your Head
07. Be Strong
08. Thank You For The Day
09. Your Lies
10. Disperate Times
11. You'll Never Sleeps
RANK: 8.5/10
Posted in Rock by Giulio De Gaetano on aprile 10th, 2013 at %H:%M.