RANK: 7/10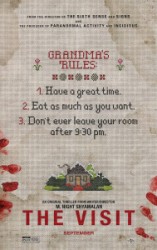 Dopo una partenza scintillante – contraddistinta dal memorabile thriller psicologico Il Sesto Senso (1999), il sottovalutato Unbreakable (2000) e i controversi Signs (2002) e The Village (2004) – la chiacchieratissima carriera del regista indiano M. Night Shyamalan ha subito un tracollo di rare proporzioni: una Caporetto dietro l'altra, culminata nell'eclatante flop sci-fi di After Earth (2013).
L'unico recente bagliore si era manifestato in Devil (non diretto, ma scritto da Shyamalan), perfido thriller-horror low budget ambientato quasi interamente nella cabina di un ascensore: avevamo così avuto il sospetto che la ripartenza del signor M. potesse passare proprio da qualche produzione indie, e non da sofisticati blockbusteroni.
La conferma giunge da The Visit, film tanto divertente quanto difficilmente inquadrabile: attingendo equamente da horror, commedia e grottesco, Shyamalan ci spinge (purtroppo, con il solito espediente del finto documentario) attraverso l'angosciante settimana dei piccoli Tyler e Rebecca presso la sperduta casa dei nonni. E' il loro primo incontro con i due vecchietti, dai quali la loro madre si distaccò presto e senza cortesie: ma notte dopo notte, scoccate le nove e mezza, segni inquietanti si manifestano nell'abitazione, svelando un inatteso lato oscuro di nonno e nonna.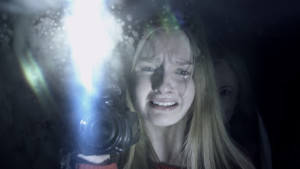 The Visit sembra l'esercizio di uno spensierato esordiente naif, più che di un ex enfant prodige, tanto è spudorato ed agile nel mixare gag, paura e (azzardo riuscito a metà) filosofia parentale. L'esito è sopra le righe, pacchiano, ibrido: ma è divertentissimo e funziona. Ricorda un po' il Wes Craven de La Casa Nera (1991). I numerosi momenti buffi non oscurano del tutto l'atmosfera tetra e le due-tre scene da sobbalzo, l'immancabile ed ottimo twist (trademark di Shyamalan) manda un brivido vero. Il crescendo finale mette a fuoco coordinate da puro horror, con tanto di anfetaminica regia mockumentaristica: pur con qualche attimo confuso, The Visit chiude bene e forte. M. Night respira un po'.
RANK: 7/10
Regista/Director: M. Night Shyamalan
Cast: Kathryn Hahn, Ed Oxenbould, Olivia DeJonge, Peter McRobbie
Usa 2015
Tag:Ed Oxenbould, film pov, finto documentario horror, horror comedy, Kathryn Hahn, M. Night Shyamalan, M. Night Shyamalan 2015, M. Night Shyamalan horror, Olivia DeJonge, Peter McRobbie, point of view, THE VISIT, THE VISIT recensione
Posted in Horror by Luca Zanovello on dicembre 10th, 2015 at %H:%M.