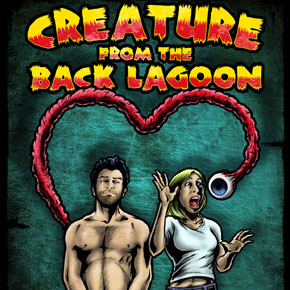 No, non è un errore di battitura né una parodia del più conosciuto Creature from the Black Lagoon, una "l" in meno ed un significato (nemmeno tanto recondito) totalmente storpiato. Un titolo (s)corretto così come (s)corretti sono i pensieri che possono sorgere nella mente di chi legge.  
Un ragazzo si sveglia nudo sul pavimento, dopo un'evidente immane sbronza. Ovviamente non ricorda nulla della notte precedente ma i postumi sembrano alquanto sconcertanti. Sente una voce e, in seguito a violenti quanto strani spasmi, si rende conto di avere una strana presenza nel retto. Un  grosso alieno peduncolare che annuncia le prossime nozze con la sua metà e, per questo motivo, deve abbandonare il luogo in cui si trova. Il protagonista, però, ha altro a cui pensare: deve conquistare l'amata prima che parta definitivamente per l'America. La ragazza si accorge del "problema" e, come una provetta ostetrica, libera l'alieno …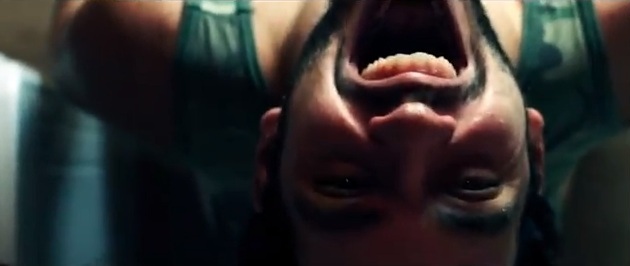 Creature from the Back Lagoon è un corto dagli effetti conturbanti, impregnato di un'ironia che non supera il disgusto scaturito sino all'ultima battuta. Federico Scargiali non è nuovo a questi exploit, già con Scusa Amore e The clown and the mirror si era mostrato divertente e divertito nell'elaborare prodotti paradossali e irriverenti. Siamo nel campo indipendente certo e, sebbene un regista debba fare i conti con determinati limiti, budget e ristretta distribuzione, d'altro canto può presentare tutte le proprie follie senza dover giustificare nulla.
Rispettabile tecnicamente,  irrispettoso e zeppo di citazioni, Creature from the Back Lagoon è arrivato secondo all'ultima edizione del Festival della Fantascienza di Trieste, nella sezione Fantastic Shorts.
Cast: Francesco Roder, Karolina Cernic, Fulvio Falzarano.
2012
Posted in Commedia and Horror by Melania Colagiorgio on marzo 28th, 2013 at %H:%M.