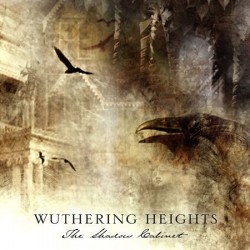 Raggiunto anche il traguardo del quarto album, i danesi Wuthering Heights tentano di tirar fuori la testa dalla polveriera di gruppi europei che affollano il mercato grazie ad una commistione di generi che principalmente struttura una base power/speed con svariati cambi progressive, il tutto pervaso da atmosfere folk, a tratti epiche. Immaginate di porre in prima linea i Dragonforce seguiti a ruota dagli Skyclad, aggiungete un pizzico di prog e di Agent Steel e potete, alla lontana, plasmare un'idea del calderone proposto. Tenete, inoltre, in conto che il cantante è Nils Johansson, singer degli ottimi Astral Doors.
"Demon desire" è la song più tirata e diretta, con ritmiche anni '80 e vocione potente (ma anche alta) di Johansson, risulta la più scontata del lotto, ma ottima per il pogo e per riscaldare gli animi. Con "Beautifool" si iniziano a pennellare sprazzi compositivi più complessi, dove l'epic si fonde col folk, rimembrando alle volte i tedeschi Blind Guardian. "The Raven" si apre come una danza medievale, mantenendo la ritmica su un mid-tempo che non lesina accelerazioni dall'ottimo impatto. Con "Faith: Apathy Divine, Part 1" si apre uno dei capitoli più interessanti del disco ove convergono tutti gli elementi caratteristici della band in un più chiaro e studiato amalgama. "Envy" risulta alquanto catchy, confermando il buon bagaglio tecnico del chitarrista, a suo agio su diversi tipi stili e sempre innovativo. "Snow: Apathy Divine, Part 2" riprende il discorso prima interrotto, innestando una marcia superiore con diversi rimandi allo speed metal tedesco di memoria helloweeniana ("Walls of Jericho"), voce graffiante ma vigorosa ed interessanti arrangiamenti di tastiera. "Sleep" risulta molto dolce, ma nel contempo ricca di quel sapore folk che pochi gruppi riescono ad evocare in modo così incisivo. Il disco tende un po' la corda verso la fine, data l'articolazione delle partiture che alla lunga possono stancare se non opportunamente sorrette da chorus o melodie strumentali particolarmente ispirate; scivolando così lentamente verso la conclusiva "Midnight song", semi-ballad priva di spunti originali, indegno brano di chiusura.
Peccato per la lieve calata verticale di qualità nell'ultima parte di The shadow cabinet, dato l'ottimo lavoro compiuto dai danesi nella prima parte. La scelta di diminuire il minutaggio potrebbe giovare a loro favore, così come porre maggiormente in risalto arrangiamenti di tastiera e synth raramente fondamentali nelle partiture.
Tracklist
1. Demon Desire
2. Beautifool
3. The Raven
4. Faith: Apathy Divine, Part 1
5. Envy
6. Snow: Apathy Divine, Part 2
7. Sleep
8. I Shall Not Yield
9. Reason…?
10. Carpe Noctem: Seize the Night
11. Midnight Song
Tag:power speed metal, The shadow cabinet, WUTHERING HEIGHTS The shadow cabinet, WUTHERING HEIGHTS The shadow cabinet recensione
Posted in Heavy Metal by Giulio De Gaetano on giugno 2nd, 2016 at %H:%M.