RANK: 4.5/10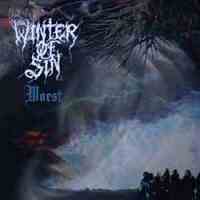 Band formata da diversi componenti provenienti dall'underground tedesco, ma anche internazionale (come recita la biografia presente nel sito), come Immortalized, Cantara, Katafalk, Obtuse, Pooier666 e As It Burns, questi Winter of Sin raggiungono il debut album dopo due demo ("Hailstorm" del 1999 e "Obscura" del 2001) degnamente recensiti nelle riviste specializzate.
Registrato nel 2005, questo "Woest" vede la luce solo nel 2006 grazie all'operato della Ccp records, ma era necessaria questa fuoriuscita dall'underground? Il disco suona nettamente come un demo dalle idee raramente interessanti, spesso imbarazzanti data anche l'estrema monotonia. La batteria (ad opera dell'enigmatico M) alterna costantemente cassa/rullante, variando poche volte senza mai eccellere o creare dei cambi di tempo degni di nota; la chitarra macina i soliti riff pseudo-melodici; il basso è praticamente annullato dagli altri strumenti, emergendo sporadicamente; la voce si manifesta col più classico degli screaming. Qualche merito va elargito a G (addetto ai synth) che riesce a stendere un sottile velo di tastiere, mai invadente o ridicolmente pomposo; ottimo l'uso del pianoforte che arricchisce con poche, ma efficaci, note il sound della band. Per il futuro auspico un più sapiente uso dei synth, potrebbero segnare la differenza.
E' inutile citare le canzoni, suonano infatti identiche l'una con l'altra, tranne la violenta "Fire", unica song capace di destarmi da tale groviglio sonoro, o la conclusiva "Voice of reason" maggiormente cadenzata ed epica rispetto al piattume generale. Un ultimo appello volevo affidare a questi ragazzi (??): per favore evitate di iniziare con urla così sgraziate come quelle che aprono il disco o nel finale della già menzionata "Fire", il gusto del demo registrato in cantina (a luci spente) lo capisco e lo apprezzo, ma il senso del ridicolo è un'altra cosa.
Tracklist
1 A Silent Deathwish
2 Overrompeld
3 When We Lived
4 Fire
5 Figures It The Shadow
6 The Sin Genocide
7 Isolated
8 Evolving Into Nothing
9 Voice Of Reason
RANK: 4.5/10