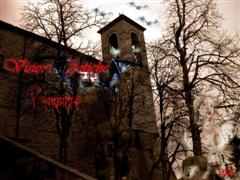 Il tema orrorifico è una costante per il duo Visioni Gotiche, un gruppo che predilige ambientazioni oscure, sonorità decadenti, suoni sinistri e voci che riemergono dal profondo di un baratro dove l'ascoltatore è scagliato nudo e solo, preda di paure ancestrali.
"Vampires" è un concept album che tocca la figura del vampiro, perciò sin dall'opener "Transylvania" si viene catapultati in una landa tetra e fascinosa, dove la curiosità ci ha spinto sino a varcare confini inviolabili.
Atmosfere decadenti ("Il castello dei vampiri", "Sacrificio di sangue"), dark rock songs ("Nosferatu The Vampyr", "Countess Bathory"), ma anche incursioni negli anni '80 ("Vlad The Impaler", "Vampires") si alternano nelle dieci tracce composte e arrangiate con molto gusto da Mattia e Roby. Molto interessante anche la traccia finale "Il risveglio del dormiente" che inietta un'ulteriore dose di gothic, si serve di percussioni e crea un perfetto finale dai sapori cangianti.
Dark, Gothic e ambient da ascoltare come ideale colonna sonora di un incubo.
TRACKLIST
1 Transylvania
2 Il castello dei vampiri
3 Nosferatu the vampyr
4 Countess Bathory
5 Vlad the impaler
6 Patto di sangue
7 Sacrificio di sangue
8 I lupi della notte
9 Vampires
10 Il risveglio del dormiente