RANK: 6.5/10
Una fuga rocambolesca da una prigione da parte di tre detenuti, il furto di un malloppo, la corsa verso la giungla a nord di Rio e l'approdo presso una spiaggetta isolata, luogo dove hanno trovato rifugio dal caos del mondo Jesse e Daniela, una coppia di lesbiche, e i loro ospiti. Sono questi gli attori che si incontrano e scontrano in Violence and Flesh.
Quanto è pittoresco il film di Alfredo Sternheim, non tanto per la situazione, piuttosto simile a vari rape & revenge che hanno infestato gli anni settanta, quanto per il contesto che il regista brasiliano riesce a creare. Si sa fin dall'inizio che le giovani donzelle dovranno subire situazioni erotiche più o meno violente, con abbondanza di scene lesbo, così come si sa che le medesime cercheranno vendetta per il gran finale, ma il modo in cui ciò avviene è superbamente rimpinzato con la giusta dose di ironia.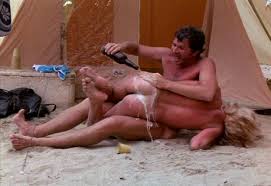 Violence and Flesh si inserisce in un calderone da B-movie, tuttavia incanala la giusta direzione, risultando più lucido della maggior parte dei film di seconda categoria affiliati al genere. Dategli una possibilità con il giusto spirito, senza farvi mancare pop-corn e kleenex.
RANK: 6.5/10
Regista/Director: Alfredo Sternheim
Cast: Hércules Barbosa, Luiz Carlos Braga, Claudio D'Oliani
Brasile 1981