RANK: 5/10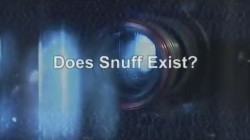 Prodotto inglese destinato a Channel 4, The dark side of porn è una serie tv dal taglio documentaristico che si immerge nel sottobosco del cinema pornografico alla ricerca dei meandri più velati e oscuri. Di sicuro interesse è il quarto episodio della seconda stagione: "Does snuff exist?".
Già da un titolo così esplicativo non ci si poteva che aspettare un excursus in quel dark side, appunto, della violenza che diviene pornografia e che si ritrasforma in aggressività. Naturalmente Evy Barry non si sbilancia alla ricerca di una verità, che difficilmente verrà mai a galla in modo pubblico, ma si spinge a raccogliere una serie di pellicole dal taglio snuff (che snuff non sono) come Cannibal Holocaust o la serie Guinea Pig, senza quindi spingersi nella vera e propria ricerca, se non in rari richiami giornalistici.
Di ben altro interesse sono le interviste sul tema a personaggi come John Alan Swartz, regista di Faces of death, o Ruggero Deodato, intriganti vademecum sul tema che evidenziano anche la differenza tra gli snuff e i mondo movies. In "Does snuff exist?" troviamo anche una significativa chiacchierata con Michael Hames, detective della Metropolitan police, a capo della Obscene Publications Branch che, forte della sua esperienza in casi weird, si racconta in modo originale.
RANK: 5/10
Regista/Director: Evy Barry
Cast: Ian Michie, Walter Bohnacker, Luigi Chiappini, Ken Lanning
Inghilterra 2006
Posted in Telefilm by Giulio De Gaetano on dicembre 11th, 2015 at %H:%M.