RANK: 7/10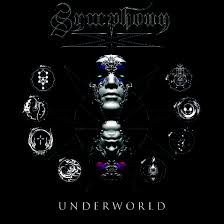 Nono album per i Symphony X e passo in avanti rispetto all'inutile Iconoclast, flagellato dalla mancata cesellatura di melodie e dal diktat del trash per forza. Con Underworld si fanno notevoli passi in avanti ma ancora la nuova form(ul)a della band si perde dietro sbavature compositive.
La carica melodica del singolo "Nevermore" risolveva gli animi, con un riff nel chorus che lascia intravedere echi di Jeff Loomis (omaggio?), mentre "Underworld" diviene simbolo dei problemi di questo disco: melodie non sempre efficaci, riff di allaccio poco calzanti e tastiere che sembrano emergere solo quando occorre citare brani di V. Nonostante questo, si alternano brani dalla carica melodica portentosa ("Without you", "Hell And Back" e "Swansong") a momenti azzeccati anche se incompleti ("Legend"), supportati dalla voce  dir poco sublime di Russel Allen, uno dei migliori cantanti della storia hard rock & heavy metal.
Potenziate Paradise Lost senza raggiungere gli estremi di Iconoclast, inserite melodie da V e The Odyssey e avrete un'idea di Underworld, un disco che non colma la distanza maturata con l'attesa ma che non fa nemmeno storcere il naso come il precedente.
Tracklist
01. Overture
02. Nevermore
03. Underworld
04. Without You
05. Kiss Of Fire
06. Charon
07. Hell And Back
08. In My Darkest Hour
09. Run With The Devil
10. Swansong
11. Legend
RANK: 7/10
Tag:heavy metal melodico, nono album symphony x, prog trash metal, symphony x, symphony x underworld, underworld
Posted in Heavy Metal by Giulio De Gaetano on agosto 6th, 2015 at %H:%M.