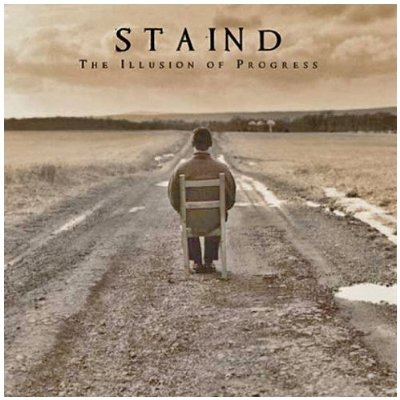 Tornano gli Staind dopo quel non proprio fondamentale album chiamato Chapter V. Chiariamo immediatamente che il versante grunge imbastardito da movenze rock e (alle volte) sorretto da echi new metal è totalmente scomparso: gli Staind del 2008 suonano alternative pop-rock dai molti risvolti commerciali. Il disco conta, infatti, molteplici ballad e brani privi di ogni cipiglio aggressivo.
Fin qui potremmo anche dire che la band ha deciso di correggere ulteriormente il tiro puntando tutto sull'appeal commerciale, ma questo potrebbe essere accettabile in caso di canzoni realmente valide … ma così non è.
The Illusion of progress risente di un songwritting semplicemente non ispirato, appesantito da alcune songs che sono dei meri riempitivi. I pezzi più tirati stentano a decollare ("The way I am", "Lost along the way", "Nothing left to say") tranne che in rari momenti ("This is it" e, in parte, "Rainy day Parade"), gli esperimenti sonori risultano riusciti a metà ("The corner") e le ballate si dividono tra quelle riuscite ("All I want", "Tangled up in you" e "Raining again") ed i flop ("Save me", "Pardon me").
Nella limited edition sono presenti anche tre brani acustici aggiuntivi ("It's been awhile", "Schizophrenic conversations", "Devil") che alla fin fine non dicono nulla in più data la sostanziale inconsistenza dell'album. Alla prossima, sperando in un ritorno dell'ispirazione.
Tracklist
1. This Is It – 3:46
2. The Way I Am – 4:18
3. Believe – 4:17
4. Save Me – 4:52
5. All I Want – 3:29
6. Pardon Me – 5:02
7. Lost Along The Way – 4:19
8. Break Away – 4:09
9. Tangled Up In You – 4:35
10. Raining Again – 3:53
11. Rainy Day Parade – 4:16
12. The Corner – 5:17
13. Nothing Left To Say – 4:40
Posted in Album and Musica and Pop and Rock by Giulio De Gaetano on ottobre 10th, 2012 at %H:%M.