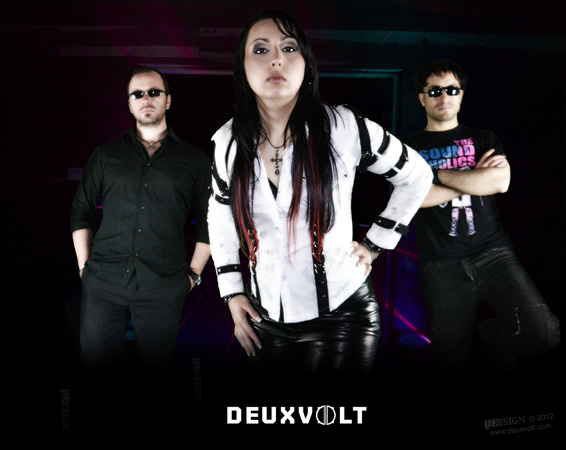 Continua la corsa dei Deuxvol: le melodiche voci gotiche di Olympia, i beats elettro/ebm di Just e la chitarra industrial/metal di Shade confezionano un prodotto di nuova generazione per tutti gli amanti del genere industrial-gothic-dance e non solo.
Una musica affascinante non solo da ballare, ma anche da contemplare, esplorando una dimensione sovrapposta tra realtà e fantasia, come ad esempio l'amore sezionato dal punto di vista medico, biologico e sentimentale (Blackheart), la denuncia shock verso tutti gli orrori della 2° guerra mondiale (Dance With Ghosts), il relativismo fra la vita nell'universo e i sentimenti (From The Stars), l'inizio di una moderna guerra informatica (God of Himself), ideali oscuri in mondi paralleli (Goth). Il tutto con riferimenti importanti come Mozart, Baudelaire, Amleto, Leonardo da Vinci, Einstein, Orwell, Dante Alighieri ed altri grandi della storia.
Nel febbraio 2012 la band rivelazione dei "dancefloor oscuri" torna a far parlare di sè con l'album Union of Opposites sia sotto il profilo musicale, sia per l'intelligente irriverenza di alcuni testi, riuscendo così nell'intento di unire mondi distanti e creando un'inaspettata e soprendente alchimia di suoni. Seguono un innovativo modello di promozione: musica gratuita e libera da qualsiasi scopo di lucro, iniziativa molto apprezzata dalla comunità web.
Secondo questo modello di "SOCIAL PAY", è sufficiente supportare il progetto Deuxvolt attraverso i social networks (Facebook, YouTube, Twitter…) o in qualsiasi altra modalità di diffusione promuovendo l'album "Union Of Opposites", scaricabile gratuitamente dal sito ufficiale www.deuxvolt.com
Pronti per uno show che i vostri occhi non hanno ancora visto? Una notte di pesanti martelli digitali, techno synthesizers, voce lirica femminile, influenze classiche, una tempesta di bpm in puro stile industrial dance pioverà sul vostro dancefloor!
INFOLINE & PRENOTAZIONI
LUCREZIA wine food & sound – vico dei Caprettari n°16-18r, Genova (Italy)
Sabato 21 luglio 2012, ore 22:00 www.lucrezialive.it
Posted in Musica and News by Giulio De Gaetano on luglio 17th, 2012 at %H:%M.