RANK: 6.5/10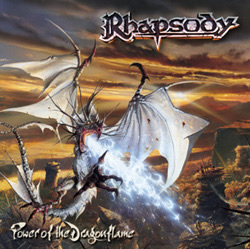 Quarto lavoro per i triestini Rhapsody, reduci dai fasti di due capitoli strepitosi (Legendary Tales e, specialmente, Symphony of Enchanted Lands) e uno "semplicemente" ottimo (Dawn of victory), Power of the Dragonflame rasenta la qualità del suo precedessore, risultando pregevole e godibile, parto di una band che non vuole mostrare la corda e, anzi, correre sempre più veloce.
"Knightrider of Doom" e la successiva titletrack deflagrano con un power speed metal privo di decelerazioni, portandoci a sollevare le spade verso il cielo e correre contro il nemico, verso l'orizzonte, sospinti da ritornelli epici, pronti ad essere cantati a squarciagola durante i concerti. Il mid-tempo di "The March of the Swordmaster" spezza (positivamente) il ritmo e "When Demons Awake" aumenta questa sensazione di rottura, innestando un brano veloce ma costruito intorno ad un riff di chitarra aggressivo di Luca Turilli ed alla voce quasi growl di Fabio Lione. I tempi rallentano solo con la ballad "Lamento eroico", perfettamente interpretata (in italiano) dal singer della band.
Le successive track ("Steelgods of the Last Apocalypse", "The Pride of the Tyrant"), seppur buone, sono solo l'antipasto della conclusiva "Gargoyles, Angels of Darkness", quasi venti minuti che iniziano con arpeggi di chitarra classica, voce femminile in sottofondo e prosegue con il solito crescendo costruito da Turilli-Staropoli, tra cori maestosi, digressioni malinconiche e doppia cassa che frulla senza mai fermarsi.
Power of the Dragonflame resta un disco che potrà amare solo chi già ama le sonorità proposte dai Rhapsody, anzi con l'incremento della velocità potrà scontentare qualche oltranzista del genere power "puro". Ma questo fa parte del gioco/processo evolutivo di una band, chiamata sia a rispettare un canovaccio che a proporre qualcosa di nuovo. E ci riesce.
Tracklist
In tenebris – 1:28
Knightrider of Doom – 3:37
Power of the Dragonflame – 4:27
The March of the Swordmaster – 5:04
When Demons Awake – 6:47
Agony Is My Name – 4:58
Lamento Eroico – 4:38
Steelgods of the Last Apocalypse – 5:49
The Pride of the Tyrant – 4:53
Rise From the Sea of Flames (bonus track) – 3:57
Gargoyles, Angels of Darkness – 19:03
RANK: 6.5/10
Posted in Heavy Metal by Giulio De Gaetano on marzo 3rd, 2015 at %H:%M.