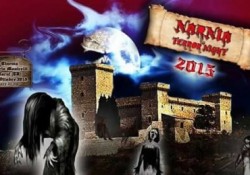 Parte a fine ottobre la seconda edizione del Narnia Terror Night, la rassegna di film horror rigorosamente indipendenti. La rassegna si svolgerà nella sola serata del 26 ottobre presso il cinema Mario Monicelli di Narni con ingresso al costo di 5 euro. Sono già stati selezionati i titoli in concorso.
I corti che verranno proiettati durante la serata sono:
- Frenesia Sanguinaria, di Walter Salami Jr (Carpi, Modena)
- Headless Man, di Angelo Di noia (Lavello, Potenza)
- Questione di Sguardi/Ways of Seeing, di Luca Alessandro e Luigi Nappa (Roma)
- I Tre Cadaveri, di Maurizio Oggero (Cuneo)
- Gu, di Lorenzo Lepori (Montecatini Terme, Pistoia)
- The Choice, di Annamaria Lorusso (Novara)
Ospite della serata sarà Luca Climati, figlio del compianto Antonio Climati; scomparso lo scorso 9 Agosto. La rassegna sarà dedicata al regista Fabio Salerno, morto nel 1993 che avrebbe compiuto 50 anni quest'anno e per omaggiarlo verranno proiettati un documentario diretto da Alex Visani e il film più  conosciuto di Fabio Salerno, Notte Profonda, grazie al quale ricevette una menzione speciale al FantaFestival di Roma nel 1991.
Il Narnia Terror Night è realizzato da Eros Bosi, appassionato di film horror ha provato egli stesso la via del regista realizzato il film Circondato dalle Tenebre.
Tag:Angelo Di noia, Annamaria Lorusso, eros bosi, Frenesia Sanguinaria, Gu, Headless Man, I Tre Cadaveri, Lorenzo Lepori, Luca Alessandro, Luigi Nappa, Maurizio Oggero, narni, Narnia Terror Night, Questione di Sguardi/Ways of Seeing, The Choice, Walter Salami Jr
Posted in News by Melania Colagiorgio on ottobre 11th, 2015 at %H:%M.