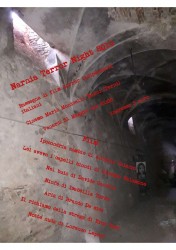 Il Narnia Terror Night 2019 non è atteso per l'autunno quest'anno, ma per il 31 maggio alle ore 21:00 al cinema Mario Monicelli di Narni (Terni).. L'edizione 2019 della rassegna dedicata ai film horror indipendenti italiani vedrà l'anteprima sullo schermo del nuovo cortometraggio del regista girato lo scorso autunno, nonche direttore artistico dell'evento, Eros Bosi, Il richiamo della strega. Già autore di Circondato dalle tenebre (2014), Evil selfie (2016) e Vamp stalker (2017).
Oltre ai film, sullo schermo ci saranno le proiezioni di alcuni trailers dei nuovi indie horror come :
Spook hotel di Lorenzo Buscaino
Herbert West-Reanimator di Ivan Zuccon
Stomach di Alex Visani
Nuns di Giovanni Aloisio
Curse of the blind dead di Raffaele Picchio
The last heroes-Gli ultimi eroi di Roberto D'antona
I film in proiezione sono:
Ipocondria zombie di Antonio Caiazzo(Ottaviano, Napoli)
Lei aveva i capelli biondi di Giorgio Salomone (Palermo)
Nel buio di Davide Cancila (Prato)
Ninfe di Isabella Torre (Roma)
Aria di Brando De Sica (Roma)
Il richiamo della strega di Eros Bosi (Terni)
Notte nuda di Lorenzo Lepori (Montecatini terme, Pistoia)
Posted in Festival by Giulio De Gaetano on maggio 31st, 2019 at %H:%M.