RANK: 6/10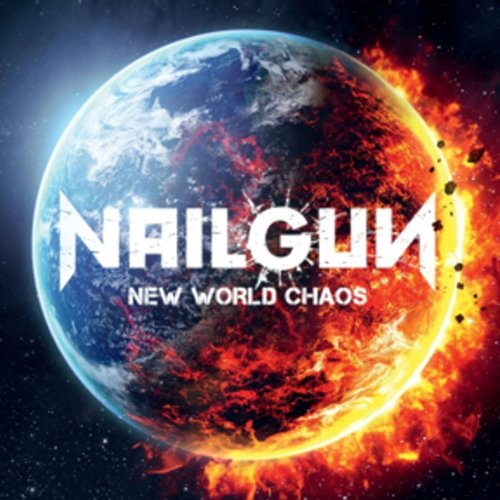 I Nailgun sono una giovane band tedesca, attiva dal 2008, fautori di un trash di matrice fondamentalmente new school ma fortemente imbastardita con soluzioni sonore dedite ad un heavy metal classico, per cui di architetture melodiche e raramente oscure o aggressive, specialmente nei ritornelli.
Questa alchimia sonora fa dei Nailgun un gruppo che sicuramente omaggia e pesca a piene mani dai Nevermore, insaporendo la miscela con bridge sulla falsariga degli Evergrey ma, al contempo, innesta determinate melodie ottantiane che riescono a donare a New World Chaos una certa originalità. Tale mescolanza può generare solo due diversi effetti: far arricciare il naso a chi pensa di trovarsi di fronte un disco potente, aggressivo e catchy, come da tradizione della band di Loomis e Dane, e rendere contento chi, invece, cerca un guizzo di novità all'interno del genere. Per cui non approcciatevi a New World Chaos sperando di trovare un lavoro che doni continuità ai Nevermore. quanto una proposta dal background spianato sì da band di altro calibro ma piena di spunti di interesse.
Dopo l'opener "A Fragment of Chaos" si cominciano le danze con "Darkest Hour", song che immediatamente sottolinea come punto di forza della band i versi e non i ritornelli, portati avanti da riff di chitarra monolitici e voce graffiante che molto deve a Warrel Dane, pur non riuscendone a toccare le tonalità più alte. I riff di chitarra che si susseguono in "Abyss of Shadows" o "When God Turned Away" mantengono tonalità melodiche tipiche dell'heavy metal classico, senza mai strafare con melodie dissonanti, al massimo espresse nei già citati versi.
New world chaos è un disco che ben presenta i Nailgun, pur essendo ancora acerbo, specialmente nella decisione della strada da intraprendere che segnerà il futuro della band, tuttavia non mancano gli spunti. Mezzo voto in più di incoraggiamento.
Tracklist
1. A Fragment of Chaos (01:16)
2. Darkest Hour (05:20)
3. Traitor (05:02)
4. I Have Enough (04:14)
5. Abyss of Shadows (04:58)
6. Deep Shades of Sorrow (05:43)
7. The Result (04:30)
8. Change of Season (04:25)
9. When God Turned Away (04:23)
10. Time is Running Out (04:48)
11. You Are Everything (06:12)
RANK: 6/10
Posted in Heavy Metal by Giulio De Gaetano on marzo 15th, 2013 at %H:%M.