RANK: 7.5/10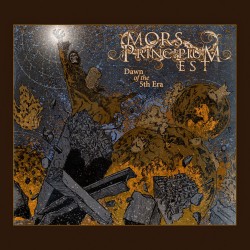 Nati nel 1999 nel gelido clima finlandese, i Mors principium est si presentano come melodic death metal band dalle soluzioni sicuramente non originali ma dall'impatto così groovy da rendere impossibile evitare l'head banging. Di sicuro non si può dire che si tratta di una band prolifica, ma proprio per questo motivo i finlandesi sono stati in grado di proporre un album ragionato e violento al punto giusto.
Dawn of the 5th era è un lavoro duro ma al contempo melodico, grazie ad intrecci di chitarra sempre piacevoli e una predilezione per il ritmo forsennato alternato al massimo a mid-tempo, evitando il giochetto degli stop and go continui, tipici di altre band. Il ritmo marziale di "Innocence Lost" o le melodie di "We are the sleep" trovano riposo nella strumentale "Apricity", dimostrando come la band desideri comunque proporre un minimo di varietà all'interno della propria proposta. Anche il pianoforte di "The forsaken" sembra stridere con il lotto, almeno fino alla partenza dei riff di chitarra.
I Mors principium est, quindi, non si possono definire gruppo trascendentale, ma con Dawn of the 5th era riescono a trovare il giusto connubio tra assalto e melodia chitarristica, sviluppando un album che si ascolta dall'inizio alla fine senza annoiare. Ed è raro.
Tracklist
01. Enter The Asylum
02. God Has Fallen
03. Leader Of The Titans
04. We Are The Sleep
05. Innocence Lost
06. I Am War
07. Monster In Me
08. Apricity
09. Wrath Of Indra
10. The Journey
11. The Forsaken
RANK: 7.5/10
Posted in Heavy Metal by Giulio De Gaetano on febbraio 16th, 2014 at %H:%M.