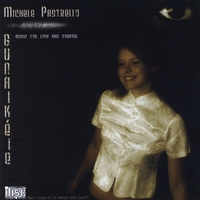 Affascinante, questo è l'aggettivo che meglio descrive il disco di Michele Pastrello. Atmosfere rarefatte e suoni avvolgenti che si incastonano nelle tredici tracce plasmando un lavoro ricco di spunti.
Ecco quindi intrecciarsi rintocchi di pianoforte che suggellano brani ambient ("Mateera -blood of my blood-", "Isabella -rage in the city"), tonalità maggiori che creano canzoni delicate dalle vaghe assonanze pop ("Kate", "Eleonora"), percussioni tribali ed intrecci di voci femminili e maschili dal sapore new age che dipingono splendidi paesaggi naturali ("Zoe -ngain's pain-", "Marcia – tears-") ed anche una certa sperimentazione che sfiora l'avantgarde ("Adele").
Risultati ancora più alti si toccano quando l'atmosfera viene resa più malinconica grazie alle tristi "Magda" e "Tamlin". Vero e proprio apice di questo Gunaikéie è la splendida "Tanya" supportata da un giro di pianoforte semplice quanto efficace. Quest'ultima fa anche parte della colonna sonora di "32″, film diretto dallo stesso Pastrello, un artista poliedrico che anche in questa veste di musicista dimostra le sue potenzialità.
Tracklist
1. Iside
2. Mateera -blood of my blood-
3. Melissa (solo tu il mio amor)
4. Tanya (32, movie theme)
5. Isabella -rage in the city-
6. Imogen
7. Kate
8. Zoe (ngain's pain)
9. Tamlin
10. Magda
11. Marcia (tears)
12. Eleonora
13. Adele
E' possibile visionare il videoclip di "Mateera -blood of my blood-" visitando la pagina:
www.myspace.com/michelepastrellomusic
E' possibile ascoltare le canzoni ed acquistare l'album su:
http://cdbaby.com/cd/michelepastrello
Contatti
E-mail: info@michelepastrello.it
Myspace: www.myspace.com/michele_pastrello