RANK: 5/10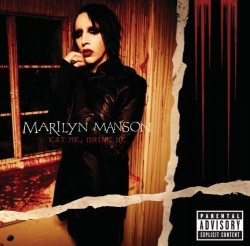 E' sempre emozionante tenere in mano un parto di Marilyn Manson, non per chissà quale spasmodica attesa da fan ma semplicemente per la consapevolezza che si verrà criticati comunque per le parole scritte dato lo spartiacque che (quasi) ogni disco dell'icona americana è capace di creare tra detrattori accaniti e supporter sfegatati.
Tra gli ascoltatori di Manson possiamo delineare tre categorie medie: c'è chi odia l'artista a priori fermandosi all'immagine così ben incartata e vomitata, c'è chi lo adora come simbolo di ribellione e diversità e c'è chi si limita ad ascoltare la proposta del gruppo (spesso ci si dimentica che non si tratta di one-man band) soppesando i testi e relegando la mera immagine commerciale in una sfera secondaria rispetto alla musica. Incanalandomi in quest'ultimo scalone devo dire che ho sentito distrattamente Protrait of an american family, adorato letteralmente la creatività e la genialità di Antichrist Superstar, sia a livello di testi che di musiche, mi sono piacevolmente affiancato al glam-rock-pop deviato di Mechanical Animals, colto qualche eccessivo segno di pesantezza e stanchezza in In the shadow of the valley of death e trovato totalmente inutile The Golden Age of grotesque.
Con questo sesto disco in studio Bryan Warner si volta indietro e compie un balzo lungo una ventina d'anni, annientando quanto creato sin ora (eccezion fatta per qualche atmosfera di Mechanical Animals) e riproponendo una sorta di collezione di ballate glam-dark dal retrogusto rock. Ciò che delude è l'abbandono totale delle invenzioni industriali qui presenti nel solo filtraggio della voce, scemando la tensione in banalità pop poco ispirate. Il passaggio di testimone a livello chitarristico ha giovato solo su alcuni versanti (quelli prettamente glam) grazie alle invenzioni di Skold, ma le impennate di Ramirez o di John 5 sono totalmente assenti, vuoi per un contesto non consono, vuoi per un non brillante songwritting.
Ecco affacciarsi timidamente "If I was your Vampire" mediocre dark-ballad dal testo ispirato alla separazione dalla ex-moglie del singer. Qui urge un altro appunto considerevole: ovunque nelle interviste sta uscendo fuori un nuovo Manson risciacquato (in Arno) dai bollenti ormoni caotici e scevro dagli orpelli che hanno sempre addobbato il suo look, questo ufficialmente per il divorzio da Dita Von Teese. Ma siamo sicuri che non si tratti di un mero sotterfugio per giustificare un calo di idee allarmante? "Putting Holes in Happiness" è una semplice ma trascinante pop-rock song piacevole soprattutto nel riff di chitarra principale e nelle potenzialità live del ritornello, così come "They said that Hell´s not hot" chiaramente catchy e quadrata per evitare sbilanciamenti pericolosi.
Il punto più alto del disco è il glam danzereccio di "Heart-Shaped Glasses (When the Heart Guides the Hand)", veramente un brano trascinante e con pochi fronzoli, sorretto interamente da un marziale ritmo di batteria e da un unico riff di chitarra che riporta direttamente agli anni '80, peccato per le poco significative liriche. Volutamente non consideriamo i brani che inframmezzano questi citati ("The Red Carpet Grave", "Just a Car Crash Away") data la loro mancanza di spessore, e andando avanti il discorso si ripete, potendo salvare solo qualche riff ("Are you the Rabbit?") o certe atmosfere ("Eat Me, Drink Me").
Sin dalla copertina del disco (con Bryan in versione semi-nature) il sospetto si era insinuato, ma a fine ascolto il dubbio si è concretizzato: il percorso della redenzione dell'artista sbandato non funziona più. Speriamo in un ritorno alle sperimentazioni industriali così eccellentemente evocate in Antichrist Superstar, magari suggellando questo percorso "mistico-depressivo" con un abbraccio tra Manson e Reznor.
Tracklist
1) If I was your Vampire
2) Putting Holes in Happiness
3) The Red Carpet Grave
4) They said that Hell´s not hot
5) Just a Car Crash Away
6) Heart-Shaped Glasses (When the Heart Guides the Hand)
7) Evidence


Are you the Rabbit?
9) Mutilation is the Most Sincere form of Flattery
10) You and Me and the Devil makes 3
11) Eat Me, Drink Me
RANK: 5/10
Posted in dark/ambient and Pop by Giulio De Gaetano on settembre 14th, 2014 at %H:%M.