RANK: 8.5/10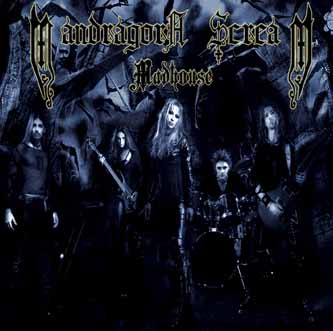 Gli italiani gothic-dark metallers Mandragora Scream, fondati nel 1997 dalle menti di Morgan Lacroix e Oleg Smirnoff (ex Vision Divine), si affacciano sulla scena con un terzo lavoro in studio, Madhouse, che evidenzia un processo evolutivo centrato sulla complessità e pomposità degli arrangiamenti, curati con gusto più raffinato, ricchi e magniloquenti, per costruire un'atmosfera romantica e gotica.
Sin dall'opener "Vlad" il gruppo rovescia le carte, sfoderando climax cupi e claustrofobici in un crescendo che porta a "Dark Lantern", song dalla malsana nenia di pianoforte, ritmata adeguatamente e siglata da ottime melodie vocali. Come già accennato gli arrangiamenti si elevano a punto focale di ogni composizione, sembrano quasi cercare di avviluppare l'ascoltatore sino a trascinarlo nella dimensione decadente evocata dalle liriche. Ottime le interpretazioni di Horn e Lacroix, le cui linee sono minuziosamente curate, peccato per la pronuncia marcatamente italiana.
Le componenti compositive cardinali scivolano tra segmenti marcatamente rock ("Frail Midnight" e "Omen Reveries") o gothic ("BLight Thrills" e "Dark Lantern"), accarezzando intermezzi acustici e recitativi ("Frozen Space", "Vlad" e "Ghost Of Swan") e irrorando rabbia con intermessi black melodico ("Redeemer"). Le songs sono quasi tutte di alto livello e riescono a mantenere il tiro dal primo all'ultimo secondo, eccezion fatta per qualche caduta di tono o mancanza di ispirazione che tuttavia intaccano poco l'alta qualità del disco. Solo un dubbio si solleva ascoltando "Frozen Space": è una mia impressione o ricalca molto da vicino le sonorità di "Space-dye Vest" concepita dai Dream Theater ai tempi di Awake?
Un'altra band italiana che merita risonanza, speriamo solo che il feedback positivo non venga unicamente dall'estero come spesso accade per i gruppi nostrani.
Tracklist
Vlad
Dark Lantern
Redeemer
Frail Midnight
Blight Thrills
Frozen Space
Haunted Heart
Silences
Omen Reveries
Ghost Of Swan
Lifeless Haze
Nightfall
RANK: 8.5/10
Posted in Gothic by Giulio De Gaetano on dicembre 19th, 2012 at %H:%M.