RANK: 7/10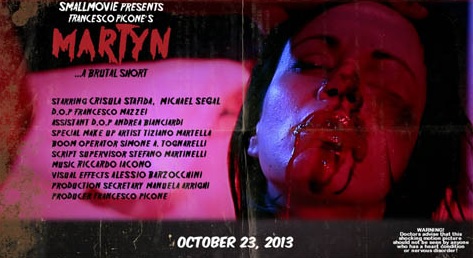 Un sms fa sorgere il sospetto di un tradimento  e  una privatissima festa di compleanno si trasforma in tragedia. Un classico dramma della gelosia scaturita dalla presenza di un … tenerissimo Martyn.
Dopo aver portato in giro con successo Anger of the dead, Franesco Picone ha realizzato un altro corto per prendere parte al contest di ABC' s of Death 2: M is for Martyn, un cortometraggio breve, rapido ed efficace.
Protagonista Crisula Stafida, già vista nell'ultimo film di Federico Zampaglione (Tulpa), protagonista della scena saffica accanto alla Gerini, carattere principale femminile anche del Marito Perfetto di Lucas Pavetto, presente più volte tra le nostre pagine. Lo stesso vale per il protagonista maschile, Michael Segal, protagonista dei film di Ivan Zuccon e mattatore in Zombie Massacre di Luca Boni & Marco Ristori. Gli attori, quindi, non sono certo dei debuttanti e sono in grado di rendere il lavoro professionale, suadente e godibile.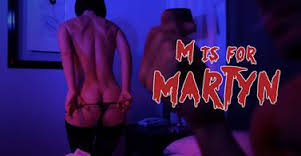 Picone focalizza l'attenzione dello spettatore prima sulla sessualità e successivamente sulla brutalità; quando ogni pugno viene accompagnato da una colonna sonora molto presente, ed enfatizzato da un regista fin troppo orgoglioso e compiaciuto di quanto mostrato.  M is for Martyn si muove deciso verso il finale a sorpresa, curato sotto tutti i punti di vista, supportato da un buon lavoro del cast e dal buon lavoro di Tiziano Martella al trucco. Certo, la trama non è nulla di originale, ma come esser sazi di lavori come questo?
RANK: 7/10
Cast: Michael Segal, Crisula Stafida
Italia 2013
Posted in Horror by Melania Colagiorgio on gennaio 17th, 2014 at %H:%M.