RANK: 7/10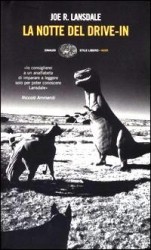 Orbit, un cinema all'aperto multi-schermo dove un gruppo di amici si ritrova per guardarsi una carrellata di film horror. Il passaggio di una cometa isola il drive-in dal resto del mondo, inglobandolo in una sorta di melma nera invalicabile e si scatena l'apocalisse via via che il glucosio scorre abbondante nelle vene e il cibo inizia a scarseggiare. Dulcis in fundo la genesi del mostruoso "Re del pop-corn".
La casa, Non aprite quella porta, La notte dei morti viventi, I dismembered mama, The toolbox murders sono i film che scorrono costantemente sugli schermi, mentre una terribile ondata di violenza si scatena su uomini, donne e bambini: cannibalismo, stupri, sparatorie si susseguono mentre cartacce di dolciumi, ettolitri di coca-cola, barrette di cioccolato, bicchieri sporchi, brandelli di vestiti svolazzano nell'oasi della morte che si crea nel confine della nuova bolgia-chiesa dell'Orbit. Quando compare la deforme mutazione del "Re del pop-corn", fusione tra due dei quattro protagonisti, il sipario si alza per un'ultima lugubre nenia funebre.
Follia e senso di isolamento diventano i principali motori di questo romanzo pulp-horror di Joe Lansdale, un immenso omaggio alla cinematografia/bibliografia di serie B (con punte al trash di serie Z), scritto con una tale enfasi creativa da innalzare La notte del Drive-in oltre la patina di mediocrità che un prodotto del genere (quasi) esigerebbe. Una prosa diretta, ironica al punto giusto, spietata e scorrevole, lascia Lansdale divagare nella fantasia con gusto, scagliando La notte del drive-in nell'olimpo dei titoli "must-read" dello scrittore. Dimenticavo, ci sono pure i dinosauri.
RANK: 7/10
Tag:Joe Lansdale recensione libro, Joe R. Lansdale, LA NOTTE DEL DRIVE IN Joe R. Lansdale, LA NOTTE DEL DRIVE IN recensione, pulp-horror, romanzo pulp
Posted in Horror and Pulp by Giulio De Gaetano on ottobre 12th, 2016 at %H:%M.