RANK: 7/10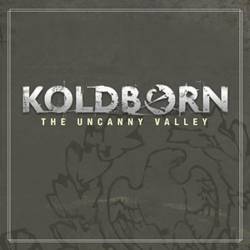 Secondo full-length per i danesi Koldborn (ex Icon of Sin) che si lanciano sulla scena senza cedere a nessun compromesso: death-metal feroce e devastante condito da qualche riff thrash. Le influenze provengono da gruppi quali Hate Eternal o Suffocation per cui l'assalto sonoro è facilmente intuibile, anche se in questo senso i Koldborn avrebbero dovuto giocare su una migliore stesura dei brani proprio per evitare gli immancabili stop and go, accelerazioni o rallentamenti vari che tendono a ripetersi pedissequamente da canzone a canzone.
Tuttavia l'impatto è notevole e per chi ascolta dischi come questo penso sia una delle caratteristiche fondamentali.
Ovviamente non cercate l'innovazione in The Uncanney Valley ma una sana e massiccia dose di violenza che deflagra in continui head-banging trascinati da una vigorosa sezione ritmica guidata dal fondatore Salskov. Tra le varie canzoni che posseggono una marcia in più, sia come carica che come composizione, occorre citare la splendida "A Destiny predicted" un vero gioiello che continua a girare nel mio lettore da giorni (provate ad ascoltare a metà brano quello che riescono a creare con un semplice accordo ed una scarica di doppio pedale che deflagra in un blast estremo) oppure "Neural bound" dove in poco meno di tre minuti un assalto cupo annienta l'apparato uditivo donando un insano e masochistico piacere.
Qualche brano sottotono non manca ("Repression", "2:18") ma sostanzialmente il livello si mantiene ben sopra la media per quasi tutta la durata del disco. L'unico aspetto che non capisco riguarda la produzione della batteria, specialmente per quanto riguarda il fastidioso suono del rullante eccessivamente secco. Un'altra carta vincente giocata dalla Danimarca, vero e proprio vivaio di band estreme (Mnemic, Hatesphere).
Tracklist
1. Lords of Stupidity
2. Disconnected
3. The Uncanny Valley
4. Below a Crushing Earth
5. A Destiny Predicted
6. Neural Bound
7. Repression
8. Relativity
9. Hope Transformed Horizon
10. 2:18
11. Last Message
RANK: 7/10
Tag:heavy metal album, KOLDBORN The uncanney valley, The uncanney valley, The uncanney valley recensione
Posted in Heavy Metal by Giulio De Gaetano on aprile 11th, 2016 at %H:%M.