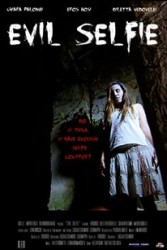 Campagna assolata, due ragazzi di fronte ad un cellulare, La loro allegria racchiusa in uno scatto, un selfie, che ne cattura il momento ma … non sono soli. Nella foto appare una strana figura, una ragazza che ne inquieta la vita. Si tratta di Isabella, una giovane trovata morta in campagna poco tempo prima.
Circondato dalle tenebre è stato un buon palcoscenico per Eros Bosi, un lavoro diretto a quattro mani con Lorenzo Buscaino, e adesso è giunto il momento per il regista ternano di staccarsi dal supporto altrui e seguire una strada in solitaria. Evil selfie, inizialmente stupisce negativamente, sembra uno dei cortometraggi indipendenti eccessivamente amatoriali che circolavano una decina di anni fa: attori più che altro macchiette, effetti visivi per coprire magagne registiche e scenografie raccattate dal giardino del proprio vicino di casa. Con il passare dei minuti, però, la vena ironica esplode e Evil selfie si rivela per quello che è: un ironico sfottò della moda dei selfie, dei musi immancabilmente immortalati a culo di gallina.
Sotto quest'ottica, con il divertente equivoco finale a coronare l'idea di base, il lavoro scritto da Eros Bosi e Luca Alessandro (The e.n.d. – The movie, Questione di sguardi) risalta positivamente nell'ambito indie italiano, ambientando nella città di Terni un breve sipario che ha come cammeo anche uno spezzone interpretato da Gene Gnocchi.
Regista/Director: Eros Bosi
Cast: Diletta Vedovelli, Eros Bosi, Chiara Palombi
Italia 2016
Tag:Chiara Palombi, Diletta Vedovelli, eros bosi, EVIL SELFIE, EVIL SELFIE recensione, Gene Gnocchi, horror comedy italiana, horror indipendente italiano, horror italiano
Posted in Commedia and Horror by Giulio De Gaetano on novembre 4th, 2016 at %H:%M.