RANK: 6.5/10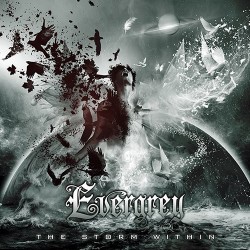 Prosegue il discorso musicale intrapreso dalla band svedese con Monday morning apocalypse o Glorious Collision, per cui chitarre rocciose e prodotte ad un volume non indifferente, brevi e immediate melodie di pianoforte, sezione ritmica semplice ma precisa e parti vocali lineari nei versi, melodiche e catchy nei ritornelli.
Gli Evergrey, quindi, decidono di non spostare l'ago della bilancia se non innestando qualche brano un po' più veloce rispetto agli ultimi standard ("My allied ocean") e dando maggiore importanza ai brani melodici, ai limiti del pop in alcuni frangenti ("Disconnet", "In Orbit", entrambe con la partecipazione di Floor Jansen alla voce). In generale, con The storm within, gli Evergrey hanno voluto dare maggiore importanza alla componente malinconica, decidendo di diminuire i tipici groovy mid-tempo per dare spazio alle ballad ("The impossible", "The paradox of the flame") e a brani ai limiti del gothic metal ("In orbit", "Astray"). Non mancano le cadute di tono come la conclusiva titletrack o "The lonely monarch".
Quanto proposto dalla band potrà piacere specialmente agli affezionati del lato più romantico-drammatico del gruppo, mentre non potrà che deludere nuovamente chi non ha apprezzato l'ultimo corso degli Evergrey. Al di là dei gusti personali, The Storm Within possiede buoni spunti ma avrebbe necessitato di una migliora caratura compositiva per imporsi nella discografia degli svedesi.
Tracklist
01. Distance
02. Passing Trough
03. Someday
04. Astray
05. The Impossible
06. My Allied Ocean
07. In Orbit (feat. Floor Jansen)
08. The Lonely Monarch
09. The Paradox Of The Flame
10. Disconnect
11. The Storm Within
RANK: 6.5/10
Tag:EVERGREY The Storm Within, EVERGREY The Storm Within recensione, Floor Jansen, heavy metal melodico, recensione evergrey, The Storm Within
Posted in Heavy Metal by Giulio De Gaetano on ottobre 31st, 2016 at %H:%M.