RANK: 7.5/10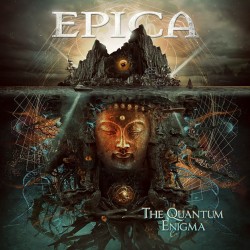 Gli Epica sono una band che ha da sempre un forte appeal per il pubblico che si diletta nell'ascolto di un certo tipo di power metal imbastardito da riff heavy classici, orchestrazioni pompose, tanta melodia, atmosfere gothic così care ai Nightwish e da una front-woman carismatica come Simone Simons. The quantum enigma non sposta di una virgola quanto proposto … con la differenza che le canzoni sono di eccellente fattura.
A dimostrarlo viene subito "The Second Stone", un concentrato di riff rocciosi, clean vocals affascinanti, cori maestosi e melodie di tastiera che avviluppano l'insieme in un caldo abbraccio in un eccellente inizio. Brani più aggressivi con l'aggiunta di growl che ben si sposano con la voce di Simone ("The Essence Of Silence", "Victims of Contingency", "Chemical Insomnia") si alternano a momenti più malinconici ("Canvas Of Life"), sino a raggiungere la vetta massima con la conclusiva "The Quantum Enigma – Kingdom of Heaven part II", dodici minuti da brivido con arpeggi, fraseggi di chitarra, momenti riflessivi e chorus ottimamente composti.
The quantum enigma non comporta scostamenti di obiettivo, deviazioni di rotta né tanto meno virate pericolose, prediligendo la strada già tracciata in passato e vedendo gli olandesi concentrarsi sulla composizione di brani all'altezza. In questo senso gli Epica raggiungono perfettamente l'obiettivo, riuscendo a comporre un disco non facile con disinvoltura e toccando i cuori dei fan.
Tracklist
1. Originem
2. The Second Stone
3. The Essence of Silence
4. Victims of Contingency
5. Sense Without Sanity – The Impervious Code
6. Unchain Utopia
7. The Fifth Guardian – Interlude
8. Chemical Insomnia
9. Reverence – Living in the Heart
10. Omen – The Ghoulish Malady
11. Canvas of Life
12. Natural Corruption
13. The Quantum Enigma – Kingdom of Heaven part II
RANK: 7.5/10
Posted in Gothic and Heavy Metal by Giulio De Gaetano on febbraio 13th, 2015 at %H:%M.