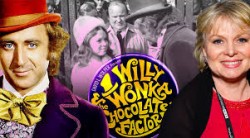 Just about every one of us has a favorite film, one we place above all others. For some of us it's our favorite actor, storyline or type of film that draws us back to watch over, and over again. However, there are those very special films that are just so good that we appreciate every aspect of them. There has been one film in my lifetime that is still my favorite after many decades, it's perfect in every way…WILLY WONKA & THE CHOCOLATE FACTORY!
The film was released in theaters the same year I was born, 1971, and is still played on television around the world, for over 50 years. I saw this film when I was a young boy, and of course, I was awestruck. From the very beginning, with the search for the golden ticket, to the chocolate factory itself, its many amazing inventions, and all that candy, especially the CHOCOLATE, I never tired of it! I, like so many others, had my favorite characters, and as I grew older, I found myself relating to the lead character, 'Charlie Bucket'. I think every kid I knew at the time related to one or another of all these loveable characters. Of course, many of us were on a mission to find our own "golden ticket", so to speak.
"Willy Wonka" was not only filled with amazing sets, beautiful songs, pure heart, but also a brilliant cast (adults and children). One of those cast members was child actress, Julie Dawn Cole, who played the very nasty tempered, spoiled, and selfish character of a little girl named, Veruca Salt. Her every demand sent her father scrambling to meet his daughter's wishes, and that included having a golden ticket (the only way one could obtain entrance to the Chocolate Factory). Of course, she landed one through the tireless efforts of her fathers many factory workers. However, Veruca met her match with Mr. Willy Wonka, on October 1st, when all the winners of the golden ticket contest got the chance of a lifetime, the opportunity of an exclusive tour through Wonka's Chocolate Factory. In the end, Veruca Salt didn't get her "golden goose" but rather a lesson in humility. Wonka was quite the teacher, indeed!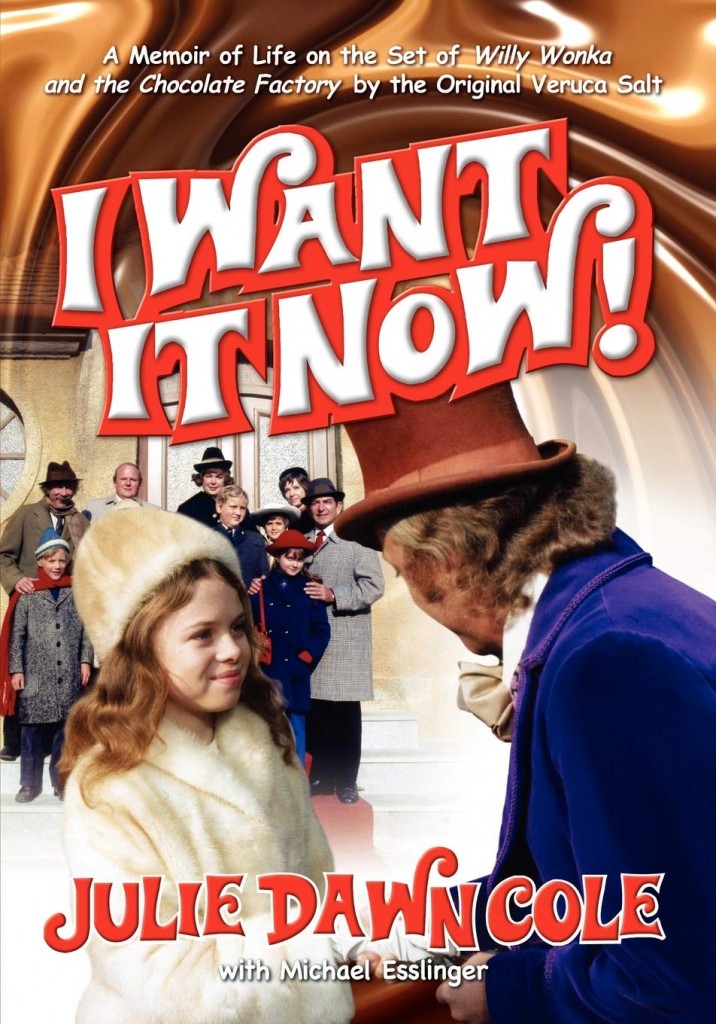 It would take someone with just the right amount of confidence to pull off the snooty, demanding, brat of a character that Veruca Salt was, and Julie Dawn Cole was the perfect fit. In 2011, Julie decided to write about her life, career, and what it was like starring in one of the greatest films of all time, WILLY WONKA & THE CHOCOLATE FACTORY! Her autobiography, I WANT IT NOW!, published by Bear Manor Media Publishing, takes its readers down an amazing and beautiful path that shares some of her deepest secrets from her young life growing up in Guildford, Surrey, England, to her acting career, and becoming a cinema icon, and beyond.
I WANT IT NOW! has many, many wonderful stories of Julie's life growing up, as a child star, and where the road led from there. She continued her acting career in many stage plays, theatre, television shows, and she eventually decided that it was time for a change. Julie became a fitness instructor, and later became a professional psychotherapist to help those in need. Although Julie still acts in television occasionally, she also enjoys making appearances at conventions, meeting fans from
around the world who still share their love for all things Willy Wonka. She's also made appearances for milestone anniversaries of the film. Julie enjoys her life with her family, and enjoys talking about her experiences that, indeed, were a wonderful part of her life as being a cast member of… Willy Wonka & The Chocolate Factory.
Her autobiography, I WANT IT NOW! is a true gem of a book packed full of great stories, memories, exclusive photos from her personal collection, and behind-the-scenes from the film. This is such a beautifully written autobiography, and one filled with enthusiasm, and is refreshingly positive all the way through. I enjoyed every page. It will bring out the inner child in you, and remind you just why Willy Wonka is still one of the greatest films ever made!
It's been an honor, and a pleasure interviewing actress Julie Dawn Cole. I hope you will enjoy it as much as I have, learning some of these more exclusive details that she has shared within the book.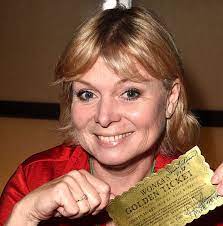 Here is my interview with 'Veruca Salt' herself…Julie Dawn Cole!
Anthony Northrup – Your book, I WANT IT NOW! is full of many wonderful stories about your life. Share with us a few of your favorite memories growing up in Guildford, Surrey, UK?
Julie Dawn Cole – Growing up in Guildford was a fairly average childhood, did the things that most of us did at the time. Picked blackberries, picked bluebells, (you are not allowed to do that now) and went to the local school.
AN – You began your acting career at a young age. Was it challenging for you to juggle acting, school, and frankly, just being a kid?
JDC – Kids that go to acting school, learn to put being a kid on the back burner. Work always comes first. If you want to rebel and cut your hair short or dye it pink, the first thing that comes to mind is ' how will this affect my job prospects?" I wouldn't put my child through it. No way. But conversely I did get to do some fun things.
AN – I read that many of your earlier acting experiences were in plays, musicals, and theatre. Aside from Willy Wonka & The Chocolate Factory, what were some of your other favorite performances and memories of that time?
JDC – I enjoyed being in Peter Pan, my very first acting job with actress Hayley Mills. She had been a childhood heroine of mine. It was exciting to be on a West End stage.
AN – Let's talk about your iconic role as Veruca Salt, in the film WILLY WONKA AND THE CHOCOLATE FACTORY. How did you hear about the auditions, and what was the process like for you?
JDC – The audition was a standard process, just the usual cattle call, which happened frequently. I didn't learn what the job was until later in the process, when I had been recalled a couple of times, and the short list was getting smaller.
AN – There are many wonderful stories (and secrets) revealed about the film in your book. One thing many fans have wondered (myself included) was if any of the candy was really edible in the Chocolate Room, or were they just props for the most part?
JDC – The stuff we actually ate was usually switched for close ups. The only thing that someone appeared to eat that couldn't be switched was Mr Wonka's daffodil cup. That was wax and he spat it out after the take.
AN – In the book you reveal your first real crush was for lead child actor, Peter Osttrum, who played Charlie. Have you and Peter, now as adults, ever had the opportunity to look back and laugh together about those days on set?
JDC – We do often giggle about this, Pete had no idea what was going on. Denise and I both had a crush on him.
AN – Looking back, it must have been fantastic to be surrounded by so many wonderful co-stars. Can you share with us any fond memories, or special little stories with anyone that stand out? Do you keep in touch with any of them now?
JDC – The 'kids' are all still in touch, though sadly Denise passed away a couple of years ago. We meet up at conventions and events, though we are spread out across the world. I also saw Rusty Goffe, (Oompa Loompa) and went to his wedding in Thailand 3 years ago.
AN – One of the most notable scenes from the film is your I WANT IT NOW!/Golden goose scene. Can you give us a little backstory of that day? Were you nervous, were there any particular challenges while filming that scene?
JDC – The Golden goose scene was filmed on my 13th birthday. I only did the actual trapdoor part once, they didn't want to risk my safety. It was a little tricky to hit my mark dead center without looking and remembering to sing at the same time.
AN – Quite often there's so much down time on movie sets just waiting (lighting, sound, set-up, etc). How did you generally pass the time between takes?
JDC – As kids we had to go to class and complete our 3 hours daily education. We always raced each other to see who could finish first and get back to hang out on the set with the grown ups.
AN – WIlly Wonka fans have always wondered what it was like riding in the S.S. Wonkatania? Or, was it all just cinema magic?
JDC – The Wonkatania was running on tracks under the water, like the Disney rides, then moved to a different sound stage and raised on towers for the back projected part. That was a bit tedious, once we were in the boat there was no getting out until we had a break.
AN – Were there any bloopers that you recall, or were memorable, that you'd like to share?
JDC – Sadly, no.
AN – Some actors bring home a little prop from their films, or a momento. Was there anything you asked for, or was given after filming? If so, what was it, and do you still have it?
JDC – I was given a golden egg as it was my birthday, I don't have it anymore, but I do have a "Scrumdiddlyumptious" bar.
AN – Let's take a moment to talk about Mr. Willy Wonka, actor Gene Wilder. Do you have a favorite moment with him, on or off set?
JDC – Too many, Gene was just a nice kind man always.
AN – After such a magical adventure at Wonka's Chocolate Factory, where do you imagine your character, Miss Veruca Salt, ended up in life?
JDC – I hope that she was a reformed character and volunteered in a soup kitchen. But somehow I doubt it. She would like the idea of being an influencer. But I would soon get bored.
AN – Many critics have compared WILLY WONKA & THE CHOCOLATE FACTORY to THE WIZARD OF OZ. Both are of different era's, both are hugely successful. Do you feel the film has earned this parallel, perhaps even surpassing the status of OZ?
JDC – I don't think I can comment, that is for others to decide.
AN – How does it make you feel that this iconic film is still loved, and yes, newly discovered by several generations after its release?
JDC – Happy!
AN – After the huge success of the Wonka film, you went on to roles in many other films. Is there any particular role in your adult career you enjoyed more than the others?
JDC – I always liked looking at where the locations for each job might be, you get to go to some cool places. Wonka has taken me to over 30 countries, from Japan to South Africa.
AN – You later became a licensed psychotherapist. Was there a particular reason why you chose this profession over your acting career?
JDC – I just wanted to do something more meaningful after 30+ years of acting.
AN – Share with us some of your thoughts and experiences you've had with fans while attending conventions.
JDC – The fans are always a treat, but I was somewhat surprised when a fan in Kansas City revealed her back was entirely covered in a tattoo of me going down the eggdicator.
AN – What a wonderful life, personally and professionally. It's nice to know that you have accomplished so much (wife, mother, actress, singer, dancer, author, and therapist). I think a bit of Veruca Salt lives on in you, the determination at least, and she'd be proud. Looking back at your amazing life and career thus far, how would you sum it up?
JDC – I think the words of Carole King, "My life has been a tapestry", just about sums it up.
AN – Lastly, what is next for Julie Dawn Cole?
JDC – Who knows? Right now I am enjoying being a Grandmother to Amber, and Cora.
Julie Dawn Cole…is just as sweet as all the wonderful treats in Wonka's factory. It has been an honor, a joy, and a personal dream come true to have this opportunity to interview this lovely lady, and actress. Thank you, Julie.
You can purchase a copy of Julie Dawn Cole's book, I WANT IT NOW! at: Amazon, or at: Bear Manor Media, com. Published by Bear Manor Media Publishing.
Tag:Julie Dawn Cole