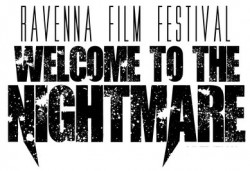 The 12th edition of Ravenna Nightmare Film Fest, the major Italian Film Festival about horror genre cinema, will take place in Ravenna (Italy) from 25th October to 1st November 2014 (Halloween period). The Festival will propose the International Competition For Feature Films; and premieres & special events which will make Ravenna, for one week, Italian capital of horror cinema.
Submissions to the International Competition are open. We evaluate features, animations, documentaries, etc. belonging to horror, sci-fi, thriller, fantasy, fantastic genre in its broadest sense. Deadline for submission is 23rd September 2014.
In previous editions, we guested directors like Dario Argento, Bryan Yuzna, Jeff Lieberman, Lucky McKee, Pupi Avati, Alex Infascelli, Lamberto Bava, Valerio Evangelisti, Manetti Bros, Ruggero Deodato, Silvana Zancolò, Jean Rollin, Jorge Grau, Sean Hogan, Andrew Parkinson, Julian Richards, Simon Rumley, Chris Sivertson, Andreas Marschall, Xavier Gens, Andreas Prochaska, Tom Six, Lorenzo Bianchini, Olivier Beguin, Stuart Urban, Kate Shenton
And we screened films by John Carpenter, Werner Herzog, Takeshi Kitano, John McNaughton, Miike Takashi, Jess Franco, Paul Schrader, Takashi Shimizu, Kim Ki-Duk, Frank Henenlotter, Michael J. Bassett, Uwe Boll, Neil Marshall, Vincent Cassel, Catherine Breillat, Christian Molina, Timur Bekmambetov, David Moreau & Xavier Palud, Fabrice du Welz, Kiyoshi Kurosawa, Kim Chapiron, Kostantin Lopushansky, Jaume Balaguerò, Olly Blackburn, Pearry Reginald Teo, James Witkin, Michael Fassbender, Ole Bornedal, Dominic Murphy, Srdjan Spasojevic, Phil Mulloy, Lee Demarbre, Alex Chandon, Suzi Lorraine, Franck Khalfoun
Please find rules and entry Form on the official website!
Posted in News by Giulio De Gaetano on September 2nd, 2014 at %I:%M %p.