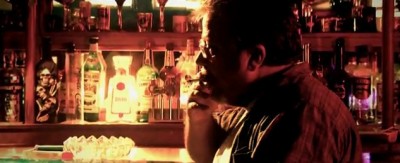 This is a strange tale about a young man who is at a bar. He seems upset and maybe have been crying. There are many flashes & flashbacks of different things racing through his mind. Images & drug use. Even possible nightmares. Suddenly, he wakes up in bed in his own room at his home. Out of it & confused, he get's up to make a phone call on his cell phone. However, the cell phone doesn't seem to work.
He decides to drive to where he needs to be, but now his car won't start. He finds this unbelievable. He tries the cell phone again & it still doesn't work. Frustrated & confused to what is really happening, he tries knocking on the neighbors door for help, but no answer. So, he starts walking. During this time, a quick flash of a mysterious dark figure pop's up here & there. This makes the young man even more confused. He decides to follow the figure to see who or what it is & why it is following him? Once he catches up with him, he see's the horrible figure it really is and runs for his life!
Suddenly, the young man is back home, but he is motionless on his floor with an empty bottle next to him. His neighbor comes by with mail & finds him there, only to find out that the boy is dead. Now the neighbor is in the bar alone, drinking, drugs, flashes & there in waiting is the dark figure…waiting as well for his next soul. This is an unusal tale, but I think what the director was trying to say is; the dark figure was death & it was coming after the next person who overdoses on alcohol & drugs who did these substances out of grief of the previous persons death. It was different, but not too bad, watchable and entertaining.
RANK: 7/10
Director: Andrew Mason
Cast: Johnny Ekholdt, Steve Korpal
Producer: Brandon Morales