RANK: 7/10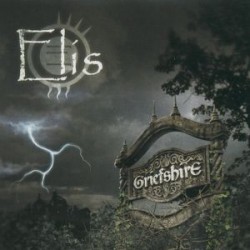 Gli Elis siglano il loro quarto lavoro dopo l'improvvisa e tragica morte della cantante Sabine Duenser a causa di una emorragia cerebrale che l'ha fulminata all'età di soli 29 anni, ventiquattro ore dopo il primo malore. La band ha deciso di pubblicare Griefshire in onore della singer che ha avuto appena il tempo di terminare la registrazione delle sue parti prima dell'inaspettato epilogo.
Già dalla copertina si manifestano le intenzioni di pennellare un disco di gothic metal, cupo e dalle sferzate drammatiche, sostenuto da riff di chitarra heavy, spesso veri e propri motori delle singole songs. Griefshire si basa su un concept che narra la storia di due fratelli fanatici religiosi che inseguono morbosamente la salvezza, anelando concetti astratti come l'amore e la verità.
Sin dall'opener "Tales From Heaven Or Hell" le atmosfere plumbee sono spezzate dalla sognante voce della Duenser, non troppo sicura con le tonalità basse, ma personale ed emozionante quando sale con le ottave, forgiando un timbro di fabbrica distinguibile dalle altre band gothic metal. Si cerca di ampliare la gamma di sonorità con brani più commerciali ("Show me the way") o pigiando sul pedale dell'acceleratore con "Phoenix From The Ashes" e "Remember The Promise", dove l'introduzione sembra estrapolata da Enthrone darkness thriumphant dei Dimmu Borgir, mentre grande attenzione viene data ai cori ("Remember The Promise") registrati dalla stessa singer.
Come tradizione dei dischi gothic non possono mancare le ballate di pianoforte, in questo caso ci vengono presentate "How long" e "Forgotten Love", la prima dalle sfumature dark wave, la seconda più classica e lineare, che segnano momenti maggiormente delicati e sentiti. Purtroppo alcuni brani sembrano forzatamente tirati ("Innocent Hearts") o incolore ("Brothers"), abbassando lievemente la valutazione finale, senza intaccare comunque la buona qualità del disco che sicuramente non deluderà i fan del gothic metal europeo.
Tracklist
1. Tales From Heaven Or Hell
2. Die Stadt
3. Show Me The Way
4. Brothers
5. Seit Dem Anbeginn Det Zeit
6. Remember The Promise
7. Phoenix From The Ashes
8. How Long
9. Innocent Hearts
10. Forgotten Love
11. The Burning
12. A New Decade
RANK: 7/10
Posted in Gothic by Giulio De Gaetano on maggio 21st, 2014 at %H:%M.