RANK: 5.5/10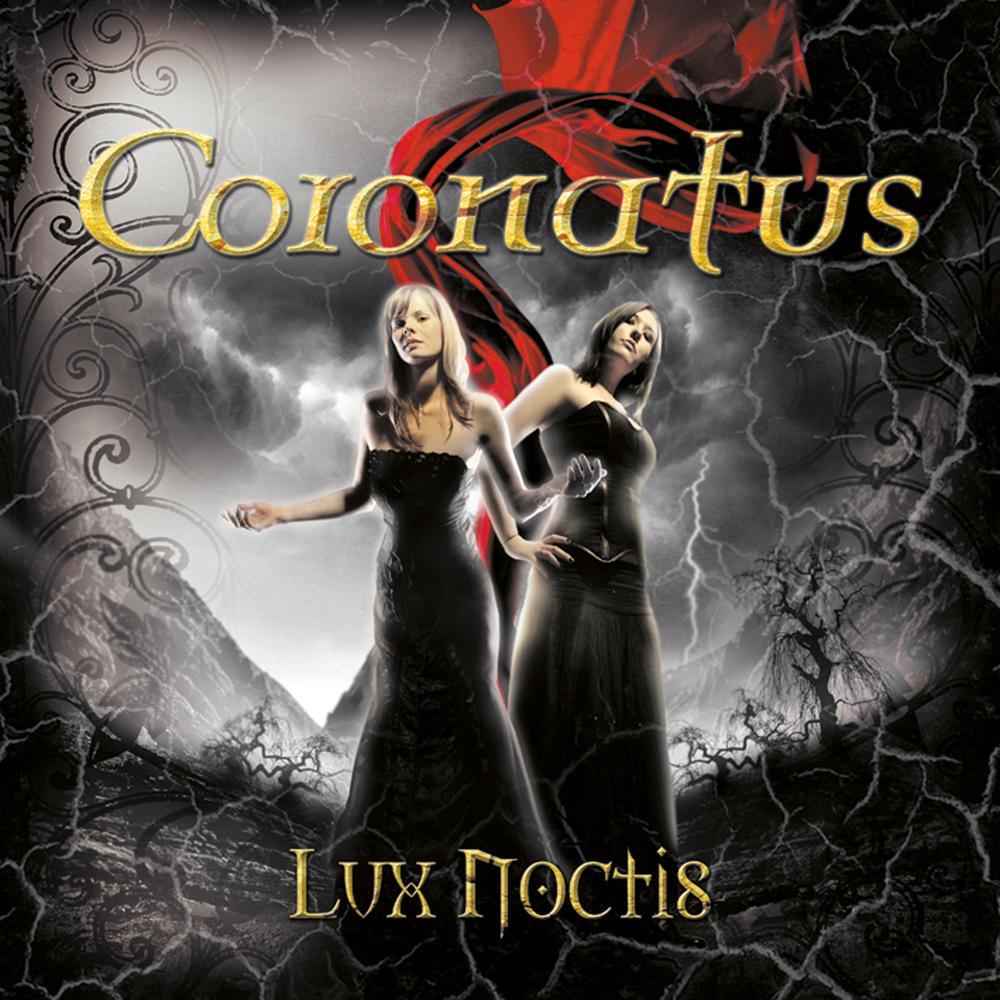 Disco d'esordio per i tedeschi Coronatus, attivi sin dal 2002 e giunti al debutto grazie alla Massacre Records. Il gothic metal proposto si adagia sui dettami imposti dai Nightwish, Therion e After Forever, giusto per citare alcuni capostipiti, facendo leva sulla presenza di ben due cantanti (Carmen Schafer e Ada Flechtner) che alternano uno stile maggiormente lirico ad uno più soave e rock.
Diciamo immediatamente che il ripescaggio di elementi già abusati nella scena determina una piattezza che non lascia brillare Lux Noctis al di sopra delle miriadi di release che si aggirano sul mercato.
Se l'opener "Interrotte speranze" è il classico intro corale, "The scream of the butterfly" ricalca fedelmente il brano diretto e ultramelodico che non può che piazzarsi in testa alla tracklist. Molto intrigante l'intreccio delle voci femminili ma è proprio la base musicale, che dovrebbero utilizzare per lanciare in alto le canzoni, a traballare sfavorendo l'equilibrio delle partiture, considerando anche contrappesi pesanti come i nomi delle band sopraccitate. Tuttavia nel mezzo del disco c'è un terzetto di brani ("Dunkle Blume", "My Rose Destre", "Winter") che, seppur limitate dal solito senso di deja-vu, si elevano dalla media grazie a delle scelte armoniche veramente azzeccate in cui le singer possono emozionare grazie alle loro capacità. Per alcune scelte di pianoforte "Dunkle Blume" mi ha riportato alla mente le keyboards dei Dimmu Borgir di Enthrone Darkness Triumphant.
L'importante contratto con la Massacre (per un disco d'esordio) dovrebbe incentivare i tedeschi a lasciar maturare le proprie abilità compositive per non perdersi nel pantano delle band derivative, da cui difficilmente si riesce ad uscire. Molto interessante, infine, l'uso dell'idioma anglo-tedesco, anche questo elemento da sviluppare.
Tracklist
1. Interrotte Speranze (01:28)
2. The Scream Of The Butterfly (04:17)
3. Silberlicht (04:01)
4. Dunkle Blume (04:37)
5. My Rose Desire (04:01)
6. Winter (01:36)
7. Hot & Cold (05:40)
8. Requiem Tabernam (04:36)
9. Ich Atme Zeit (04:30)
10. In Remembrance (00:52)
11. Volles Leben (03:51)
RANK: 5.5/10
Posted in Gothic by Giulio De Gaetano on luglio 4th, 2013 at %H:%M.