RANK: 7/10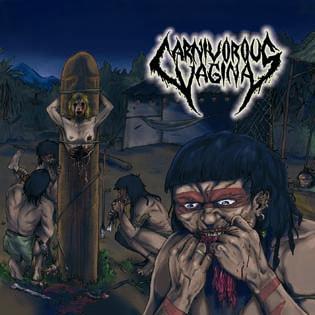 Mutilazioni, cannibalismo, gore e violenza a go-go non possono che tramutarsi in devastazione sonora. Il pattern composto da ventitre tracce innesta subito la marcia più alta e si schianta come un caterpillar contro le orecchie dell'ascoltatore che, tra growls furibondi, urla straziate, batteria elettronica e chitarroni accordati in basse tonalità, porta avanti un brutal death metal dalla chiara matrice americana.
La principale fonte di ispirazione sono i Mortician (e si sente), inoltre il cantante/bassista della prima citata band, Will Rahmer, è il produttore esecutivo del disco. La band newyorchese si è sempre contraddistinta, oltre che per una indicibile violenza sonora, per l'inserimento di campionamenti estrapolati da pellicole horror. Lo stesso fanno i nostrani Carnivorous Vagina, utilizzando sample di film italiani, rendendo felici anche gli appassionati del cinema dell'orrore.
Tutte le tracce sono caratterizzate dai ritmi martellanti del brutal, con poche concessioni agli stop and go, preferendo così l'assalto diretto alle costruzioni che una certa parte del death metal preferisce imbastire. Sicuramente la band di Pontedera dovrebbe trovare un vero batterista oltre che lavorare sui suoni in modo tale da rendere più nitido il muro sonoro. Un must per gli appassionati del genere. Deflagrante.
Tracklist
1. Intro
2. Sharpen
3. Frantic
4. Maim, Slash and Kill
5. Mutilated
6. Wrath
7. Rough
8. Bloodlust
9. Drawn
10. Massive Bloodshed
11. Savage
12. Marauders
13. Isle of the Dead
14. Grindhouse Freak Massacre
15. Strage Cannibale
16. Psycho Cult
17. Field Funeral
18. Cannibal Den
19. Rippers
20. Serve the Dark
21. Tear to Shreds
22. Executio Satani
23. Outro
RANK: 7/10
Posted in Heavy Metal by Giulio De Gaetano on febbraio 7th, 2013 at %H:%M.