RANK: 7/10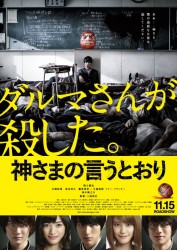 Una classe liceale, improvvisamente la testa del professore esplode in copiosi schizzi di sangue e fa posto ad una specie di bambolotto, il Daruma ga koronda, un essere che inizia il suo gioco mortale durante il quale solo un alunno può salvarsi, sulle spalle del resto dei compagni di classe. Il primo gioco è una sorta di "un, due, tre … stella" ma è molto importante fare attenzione al sangue e a delle palline perché se si scivola, si muore.
Basato sull'omonimo manga del 2011 scritto da Muneyuki Kaneshiro ed illustrato da Akeji Fujimura, As the gods will è un concentrato di cruda ironia, azione e splatter, formula già ben rodata dal regista nel corso della sua vastissima filmografia, che qui trova un equilibrato mix, in grado di mantenere lo spettatore sulla corda per tutta la sua durata. Ancora una volta la scuola diviene centro dell'azione, come teatro di orrore ne Il canone del male (2012) o come scenario di devastazione e amicizia in Crows Zero I (2007) e II (2009), ma la stessa diviene gabbia (di matti) dove inscenare una sorta di teatro kabuki dell'assurdo.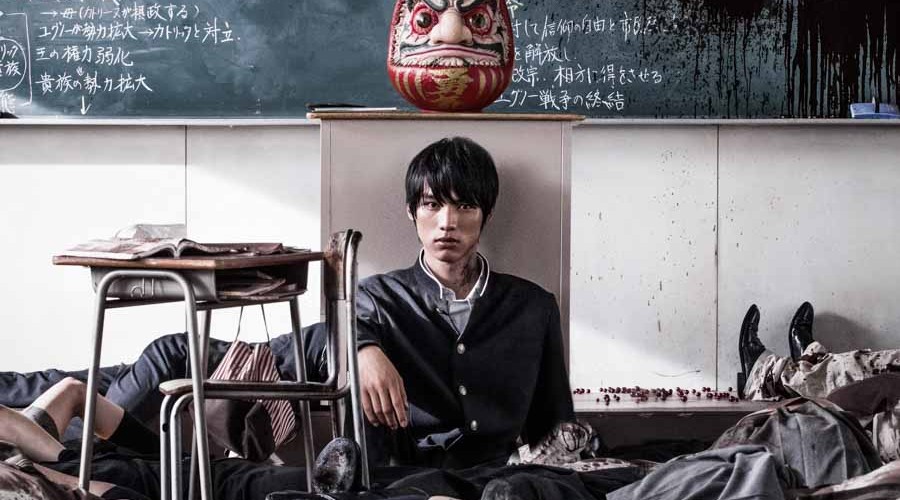 La mano di Takashi Miike si riconosce, fulminea, bizzarra, amorale, distorta ma sempre ferma e capace, stavolta impelagata anche in tematiche filosofico-religiose da non sottovalutare, nonostante il taglio caricaturale delle situazioni, finale incluso. Guardate As the gods will anche con il giusto distacco, sarete comunque preda dello stupore … meglio questo che esser preda di un gatto gigante (il maneki-neko) a cui si deve appendere un sonaglio al collo pena la morte!
RANK: 7/10
Regista/Director: Takashi Miike
Cast: Ryûnosuke Kamiki, Shôta Sometani, Sôta Fukushi, Hirona Yamazaki, Mio Yûki
Giappone 2014
Tag:Akeji Fujimura, AS THE GODS WILL, AS THE GODS WILL recensione, film Miike, Hirona Yamazaki, Mio Yûki, Muneyuki Kaneshiro, Ryûnosuke Kamiki, Shôta Sometani, Sôta Fukushi, Takashi Miike
Posted in Azione and Commedia by Giulio De Gaetano on maggio 25th, 2016 at %H:%M.