RANK: 5/10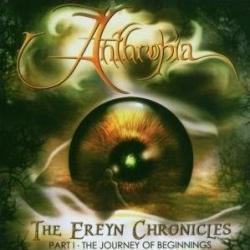 One man band (eccezion fatta per la batteria) proveniente dalla Francia dedita ad un power prog che strizza l'occhio a band come Symphony X, Stratovarius, Ayreon e Rhapsody of Fire, proponendo un sound progressivo con le tipiche accelerate del power europeo. The Ereyn Chronicles è la prima parte di una saga fantasy che vede il protagonista Amryl cercare un oracolo per salvare il suo universo dal caos improvvisamente scoppiato, incontrando un caleidoscopio di personaggi fantastici come fate, orchi, barbari e simili creature.
Innanzitutto lascia basiti la durata media dei pezzi veramente molto lunghi, causa molte divagazioni strumentali ai limiti del rock progressivo che alla lunga appesantiscono parecchio le composizioni, risultando spesso slegate tra loro e fine a se stesse. Sopportare gli otto minuti di "Through The Sleeping Seaweed" ad esempio non è semplice, specialmente quando alla fine spunta un riff scopiazzato dai Dream Theater con l'immancabile voce narrante cupa e anthemica. Consiglio, a tal proposito, di trarre importanti insegnamenti dalle parti strumentali degli Shadow Gallery o, tornando indietro nel tempo, dei Genesis. L'intro "Welcome To Ereyn" è stato scritto (decisamente meglio) dai nostrani Rhapsody of Fire molti anni prima; la catchy "Question of Honor" risulta scontata e banale, per non parlare del video che a più riprese mi ha ricordato i tremendi clip realizzati dagli Hammerfall per i loro primi album.
La tecnica esecutiva è presente, la tenacia di portare a termine un così laborioso progetto è lodevole, comprendo l'impegno profuso dal giovanissimo Hugues ma suonare prog non vuol dire avere il diritto di miscelare casualmente riff sicuramente curati ma non amalgamati tra loro usando la scusante della complessità del genere. È vero che rappresentare le diverse sfaccettature dell'universo pennellato dalle liriche richiede un vasto campionario di suoni, tuttavia per essere funzionali devono essere accuratamente affiancati da idee ispirate. Personalmente premerei maggiormente sugli aspetti sinfonici, lasciando scivolare via parte degli assoli a favore di una epicità più corale e coerente. Siamo anni luce dal seminale Nightfall in middle-earth dei Blind Guardian ispirato al Silmarillion di Tolkien.
Tracklist
01 Welcome To Ereyn
02 Question Of Honor
03 Lords Of A World
04 Through The Sleeping Seaweed
05 Forgotten
06 Lion-Snake
07 Where The Secrets Lie
08 The Walk Among The Ruins
09 In The Maze Of A Nightmare
10 The Desert Of Jewels
RANK: 5/10
Posted in Prog rock by Giulio De Gaetano on maggio 24th, 2013 at %H:%M.