RANK: 4.5/10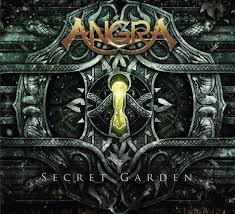 Ed anche per gli Angra è arrivato il momento di cambiar pelle (ancora una volta). Il tentativo, stavolta, vede l'innesto in formazione dell'eccellente Fabio Lione al posto del dimissionario Edu Falaschi alla voce, e di Bruno Valverde al posto di Ricardo Confessori alla batteria.
Dopo il guizzo dell'elegante opener "Newborn Me" che lascia emergere le nuove influenze della band brasiliana, trova spazio subito "Black Hearted Soul", un chiaro rimando alle sonorità power degli esordi utile solo agli aficionados del genere. Le percussioni sono ben presenti nella successiva "Final Light", tuttavia anch'essa scialba e dal ritornello poco incisivo. Finora Secret Garden non esalta.
Finalmente entra in gioco la già nota "Storm of Emotions" e il livello si alza, grazie a soluzioni vocali notevoli, melodie catchy ma assolutamente non banali. E si intravede la luce … per un attimo. Peccato che anche se Simone Simons impreziosisce "Secret Garden" e Doro Pesch "Crushing Room", le strutture delle altre canzoni non reggono ("Violet Sky", "Upper Levels"), nonostante tanti spunti originali ma mai concretizzati. Anche la chitarra di Rafael Bittencourt non la fa da padrone, eccezion fatta per i fraseggi di "Perfect Symmetry", perdendo una delle caratteristiche degli Angra.
C'è ancora molta strada da fare per l'ex band di André Matos, in ripresa dopo troppe tribolazioni e cambi importanti di line-up. Secret garden resterà nella storia come disco di passaggio in attesa di raggiungere (speriamo) ben altri lidi.
Tracklist
1. Newborn Me
2. Black Hearted Soul
3. Final Light
4. Storm of Emotions
5. Violet Sky
6. Secret Garden (feat. Simone Simons)
7. Upper Levels
8. Crushing Room (feat. Doro Pesch)
9. Perfect Symmetry
10. Silent Call
RANK: 4.5/10
Posted in Heavy Metal by Giulio De Gaetano on gennaio 16th, 2015 at %H:%M.