RANK: 4/10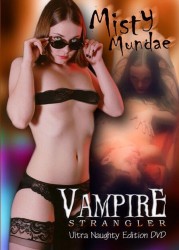 Lydia è distesa in una vasca da bagno, rilassata e immersa nella giusta atmosfera, quando un vampiro irrompe nella stanza e la strangola. Fortunatamente si tratta solo di un sogno, ma "premonizioni" simili si susseguono al punto da spingere la donna a scappare fino in America, trovando ospitalità presso un cugino.
Una trama scritta su un tovagliolino di un McDonald's, tra macchie di unto, salse e caffeina; le risate causate dalla non-voluta blanda sceneggiatura sono presto sostituite dal fastidio e dalla frenetica pressione del tasto forward per raggiungere le scene di sesso. Un comparto tecnico imbastito sul "buona la prima", con regia approssimativa, montaggio caotico e fotografia disastrosa, supera la barriera del trash nel momento in cui non riuscite a capire bene i dialoghi a causa della qualità della presa diretta ancor più afflitta dai rumori/sonoro (ma attenzione, esiste una special edition che migliora un minimo la resa tecnica, per chi non ha peli sullo stomaco).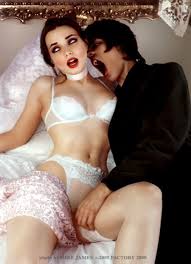 Cosa rimane di decente di questo Vampire strangler? Naturalmente il motivo stesso della sua realizzazione: la presenza dell'attrice Misty Mundae in scene di sesso esplicito. Eroina dei b-movie, nota con i nomi di Misty Mundae e di Sadie Lane, Erin Brown (vero nome dell'attrice, comunque nata come Erin DeWright) ha partecipato a diversi horror film (Duck! The Carbine High massacre, Chantal, Shock-O-Rama) prima di passare al soft-core a fine anni '90 (Play-mate of the apes, Spiderbabe), con Vampire Strangler a fare da spartiacque. Noioso, esteticamente brutto, trova nel sesso non simulato dell'attrice la sua ragion d'essere, ma questo è sufficiente? Dipende dai palati.
RANK: 4/10
Regista/Director: William Hellfire
Cast: Erin Brown, William Hellfire, Joey Smack
Usa 1999
Tag:Erin Brown, Erin Brown porno, Erin DeWright, Joey Smack, Misty Mundae, Misty Mundae poorno, porno horror, Sadie Lane, VAMPIRE STRANGLER, VAMPIRE STRANGLER recensione, William Hellfire
Posted in Porno horror by Giulio De Gaetano on dicembre 19th, 2016 at %H:%M.