RANK: 7.5/10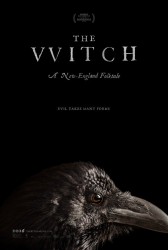 Una famiglia viene cacciata dal proprio villaggio e si ritrova a ripartire da zero in una fattoria, vicina ad un tetro bosco dove ai bambini è vietato avvicinarsi. La primogenita Thomasin gioca con il neonato fratellino ma, improvvisamente questo le scompare letteralmente davanti, innescando una serie di sospetti e timori all'interno del nucleo familiare.
Primo lavoro per Robert Eggers, che ricostruisce un cupo pamphlet inscenato nel New England del diciassettesimo secolo, lavorando più sull'atmosfera e sul mood che non sull'orrore vero e proprio. Per cui dimenticate la linea horror tracciata dai lavori statunitensi dove il crescendo di tensione è sottolineato da effetti sonori crescenti e apparizioni improvvise, con The Witch il male si insinua silenziosamente dentro casa, stupra il focolare domestico violandone la sacralità, osserva con distacco e affonda solo quando è necessario.
Come se fossimo muti osservatori, Eggers ci poggia su una sedia di legno logorata dai tarli di fianco a Thomasin, William, Katherine, Caleb, Mercy e Jonas, mentre le candele rischiarano la cena anticipata dalla preghiera; ci fa scrutare la profonda fede come l'altrettanto profondo sospetto, facendoci chiedere se il male è già insito tra di loro o sta solo attendendo il momento giusto per annichilirne le anime. Non dimentichiamo che The Witch è un film (anche) sulle streghe, come quelle raccontate nelle fiabe più nere, in grado di volare così come di imbrattarsi il nudo corpo di sangue innocente, guidate da un male muta-forma che sussurra e affascina, che ammalia e uccide.
RANK: 7.5/10
Regista/Director: Robert Eggers
Cast: Anya Taylor-Joy, Ralph Ineson, Kate Dickie, Julian Richings
Canada 2015
Tag:Anya Taylor-Joy, film streghe, horror canadese, horror streghe, Julian Richings, Kate Dickie, Ralph Ineson, Robert Eggers, the witch, the witch recensione
Posted in Horror by Giulio De Gaetano on aprile 27th, 2016 at %H:%M.